Spotted! Delissio flips its model and goes door-to-door
The frozen pizza brand known for boasting that it's "not delivery" switched up the message for one night through a partnership with UberEats in an effort to reach millennials.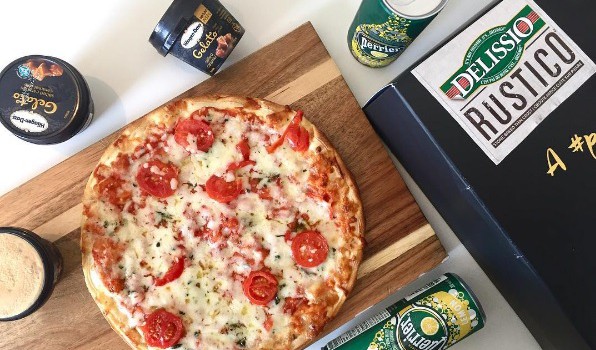 Many millennials grew up with the classic slogan, "It's not delivery, it's Delissio."
On Feb. 9, however, the brand chose to flip its model (temporarily) and offer pizza service to customers' doors through a partnership with third-party food delivery service UberEats (for free).
The one-night event saw Delissio pizza kits available for delivery throughout the GTA, promoted within the UberEats app. The pizza kit contained a margherita pizza from Delissio's Rustico line of frozen pizzas, a box of gelato and two cans of sparkling water.
(The day also happened to be National Pizza Day, a day to celebrate all things related to pizza. The origins of National Pizza Day are still unknown).
Sarah Goldspink, assistant brand manager for Delissio at Nestle told MiC the one-day event was part of the brand's increasing efforts to engage with millennials through platforms they're already fond of, including the Uber app. On top of in-app advertising, it's also being promoted through boosted social on Facebook, Twitter and Instagram and influencer marketing featuring Toronto social influencers Michael Nowacki (@to_finest) and Grace Pan (@phone.eats.first).
Media buys were handled through Maxus Canada, with work from Bespoke on creative and Narrative on PR and influencer marketing.
The packaging of the event is a similar effort to the one the brand put forward with last year's pizzeria pop-up in Toronto's entertainment district, which also promoted the Rustico line.
"Creating a brand experience is more valuable to millennials than just telling them what to believe," said Goldspink. She added that the Uber technology created more marketing potential for the activation. "We could be very hyper-targeted in our ad delivery, we [sent] out email blasts and we set up a microsite that users could check out for themselves."
Goldspink said in recent years, experiential and influencer marketing has become the focal point of Delissio's marketing efforts, and that it is now focusing on targeting millennials, whereas in the past it targeted mainly families through television advertising. However, she would not offer a breakdown of how Delissio's media spend has evolved.
According to a representative for Delissio, 2,000 pizza kits were given out for the event.
Photo: Michael Nowacki