Dove partners with Snapchat to filter out negative messaging
As part of its ongoing "Real Beauty" campaign, Dove tapped Snapchat for the first time, stripping away the airbrushed effect of the platform's popular "pretty" filter.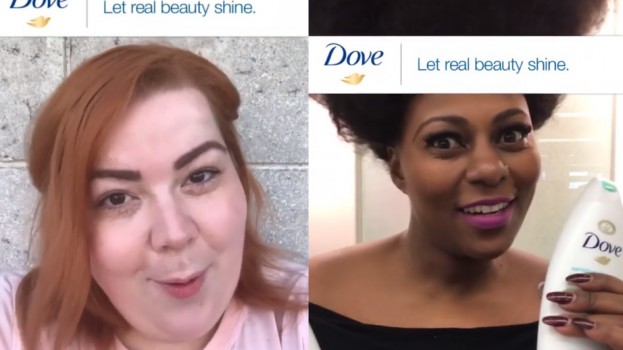 By now, Dove is used to getting the spotlight for its "Real Beauty" campaign — but for this year's iteration of the campaign, now entering its 14th year, it's tapped a new platform to drive the message home.
This year, Dove engaged in a one-day takeover of one of Snapchat's most popular filters, known as the "pretty" filter. Working with Snapchat, Dove altered the filter, which normally gives an effect of airbrushed skin, lighter eyes and a slightly slimmed nose. Instead of the usual enhancements, users were prompted to raise their eyebrows. The filter then unveiled a banner with the slogan, "Let Real Beauty Shine," leaving the selfie unaltered. The takeover, which was specific to the Canadian market, took place on March 3.
Leslie Golts marketing manager for the Dove brand at Unilever, said the brand team wanted to integrate Snapchat into this year's campaign in order to be a part of the massive conversation on the platform. She said when working with media agency Mindshare Canada, the team pointed to insights that show using Snapchat's beauty filter can bring on some of the effects of negative self-esteem.
A number of articles and thought pieces have been written about the effects of the filter, and Snapchat has even been accused by some of possibly targeting racialized features, with some of the filters slimming noses, lightening skin and making eyes appear larger. Snapchat has not responded to any of those claims.
Golts said that while the platform is generally seen as a more millennial destination, she said insights during planning revealed to the brand that Snapchat still has a sizable audience outside that group (research from Solutions Research Group found that 41% of Snapchat's Canadian audience is older than 29).
"We really felt that it was the right place because yes, there is that younger millennial audience, but we can also reach so many more women through this one particular effort," she said. She added that from a brand equity standpoint Dove over-indexes with millennials, but Snapchat was still a strong opportunity to bring in more youth-oriented social initiatives to the media mix.
Dove also engaged a number of Canadian influencers to promote the Snapchat filter including fashion blogger Amanda Montgomery, model Esther Nakitende (both pictured), beach volleyball player Taylor Pischke, blogger and activist Hannah Alper, model Latoya Taylor and actor Kenzie Brenna.
The "Real Beauty" campaign will also include a boosted social component featuring editorial photos by renowned fashion photographer Mario Testino.
Unilever worked with Ogilvy Canada on strategic and creative direction and partnered with Harbinger on influencer and media relations.
The lens saw more than four million plays in the day of the activation and made 1.7 million impressions through direct Snap messages and stories.