Spotted! McDonald's broadcasts its breakfast message
The QSR took over a Yonge-Dundas Square digital billboard in Toronto to show real-time Tweets and drum up excitement for its all-day breakfast offering.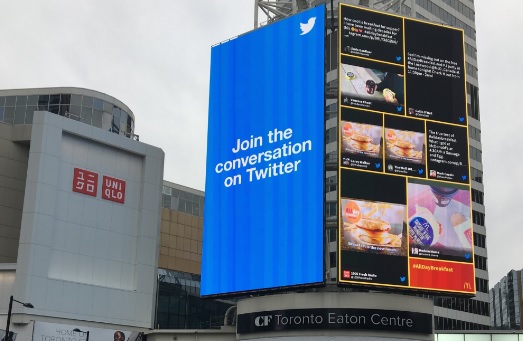 For anyone who has ever craved an Egg McMuffin at 3 p.m., McDonald's Canada wants you to know it's possible.
The fast food chain officially rolled out all-day breakfast nationwide on Feb. 21 after a short testing period — and on March 7, it promoted the new option through a massive digital billboard at Toronto's Yonge-Dundas Square (where there are no less than 13 McDonald's locations within a 1 km radius). Rather than feature traditional static images or videos, the billboard instead displayed a dashboard of real-time Tweets using the #AllDayBreakfast hashtag.
The billboard went live at 11:01 a.m. yeaterday, one minute after breakfast would normally stop being served at McDonald's. It was a joint effort between McDonald's Canada, Twitter Canada, media buying agency OMD, outdoor advertising company Clear Channel Canada and data analytics/digital signage company Dive Networks.
"We needed a way to show that all-day breakfast was very huge," Robert Nolan, digital supervisor with OMD, told MiC. After the idea of doing a promoted hashtag on Twitter was brought up numerous times, OMD connected McDonald's with Twitter Canada to see what else could be done to make it bigger.
Twitter had already worked with Clear Channel and Dive Networks to bring tweets onto a digital display at BMO Field at this year's Grey Cup, and Laura Pearce, head of B2B marketing at Twitter told MiC this campaign was a good opportunity to bring the technology into a more public space. On top of the billboard Twitter also created a custom McDonald's breakfast emoji which would generate whenever any user penned the #AllDayBreakfast hashtag.
The activation, said Nolan, helped to expand the campaign beyond just a digital screen. "It will show how many people were excited about it," he said.
But the event also worked twofold, said Pearce, promoting more active use of Twitter.
"In many ways, it was a product demo for us [Twitter]," said Pearce. "We're obviously looking to drive volume of Tweets, we're looking to drive intent to use Twitter and exposure to it."
The one-day event also included a national Snapchat geofilter, while the broader all-day breakfast campaign will include out-of-home, digital advertising and promoted social media and last until the end of April.