Spotted! Corus brings human curling to the street for Big Brother Canada
A March break stunt at Toronto's Yonge-Dundas Square promotes season five of the show on Global Television.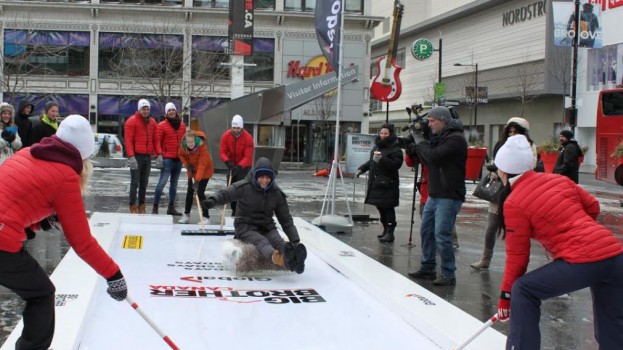 Corus Entertainment is getting Big Brother Canada fans close to the action this week by bringing human curling, a fan-favourite challenge from the show's first season, to Toronto's Yonge-Dundas Square.
The game is pretty much what it sounds like. Corus Entertainment and Mpossible events have built an ice sheet in the square, with fans going head-to-head by pushing a partner sitting on a block of ice like a human curling stone down the sheet.
The challenge started Wednesday and runs again Thursday from 10 a.m. to 7 p.m. Fans on-site could also take home a branded winter survival kit that included cell phone cases, lip balm and text-friendly mittens.
The stunt is part of Corus Entertainment's promotion for season five of Big Brother Canada on Global Television, which premiered Wednesday at 9 p.m.
Jim Johnson, VP of marketing at Corus Entertainment, told MiC that the idea for the "very Canadian" stunt came from the media co's internal team, many of whom are fans of the show in addition to promoters of it.
The stunt was timed to go live around the season premiere, which also falls during March break, meaning the typically bustling Yonge-Dundas Square was busier than normal. Johnson said the target demo for Big Brother Canada is adults 18 to 49, which a focus on millennials.
The event was promoted through an OOH buy around Yonge-Dundas Square, paid social media and digital posts, as well as organic posts from past Big Brother Canada houseguests like Sarah Hanlon, Jon Pardy and Jillian MacLaughlin. Other Corus Entertainment brands like ET Canada, Global News and 102.1 The Edge were also live on site.
A broader campaign promoting the launch of Big Brother Canada's new season included OOH digital video spots in Calgary, Edmonton, Toronto and Vancouver, as well as radio spots and digital and social media posts.
Season four of Big Brother Canada saw an average audience lift of 7% over season three, with an AMA of 1.2 million viewers per episode for the regular season. The finale was watched by an overnight audience of just under one million, according to Numeris numbers from Corus Entertainment.
Sponsors for season five of Big Brother Canada include The Brick, Toyota, Kraft, Oreo, Paramount and ParticipAction.