Spotted! A sophisticated ice cream pop-up
Häagen-Dazs has its eye on young professionals, with tasting "flights" of ice cream and booze-infused dessert cocktails.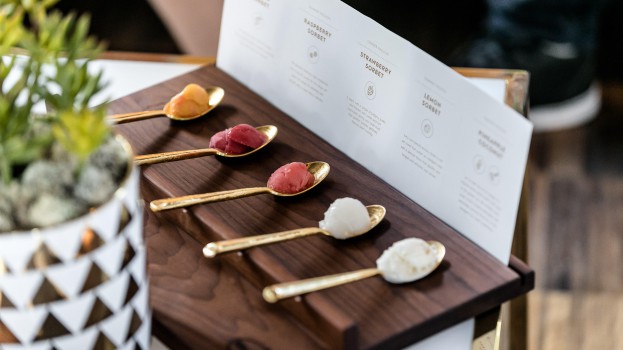 Summer in Toronto means two things: pop-up shops and ice cream. Häagen-Dazs has capitalized on both those with a temporary ice cream bar in Toronto's King West neighbourhood.
But instead of going for a whimsical, family-friendly ice cream parlour, the Nestle-owned ice cream brand is going for something a little more sophisticated, eyeing young professionals with high-end tastes.
The pop-up, which went live June 22 and will keep its doors open until July 22, operates a take-out component but also serves tasting "flights" of ice cream, affogato desserts (through a partnership with sister brand Nespresso) and, on select days and times, offers a "Haagen Hour" happy hour, when visitors 19+ can listen to music and order ice cream cocktails.
The cocktails serve as a showcase for Häagen-Dazs' new line of alcohol-infused ice creams, which are only available in Canada. The flavours contain 1% alcohol and include Irish Cream Coffee and Bisotti, Whiskey Chocolate Truffle, Vodka Key Lime Pie and others.
The idea behind the activation, said Sara Rodrigues, marketing manager for the Häagen-Dazs brand, is capturing millennials where they work and play.
"We considered Bloor Street, but Bloor Street is a little older and more traditional," she said. The brand also considered Queen, which she said leaned more toward the "play" side and less toward "work."
(Another Nestle brand, Nescafé, recently used Queen West to court the slightly younger end of the demo, targeting students with its pop-up café).
Eventually, the brand settled on King and Portland, which she said meets the balance of a neighbourhood with plenty of offices and work spaces, along with trendy clubs and restaurants.
The space is being promoted through a digital campaign, largely using mobile geotargeting, as well as digital out of home advertising in Toronto's underground PATH walkways. Media buys were done through both Maxus and Cadreon, with PR by Narrative.
It's the second year doing an urban, experiential stunt for the Häagen-Dazs brand — last year it leaped onto the Toronto food truck craze with its own mobile ice cream shop — but Rodrigues said a bricks-and-mortar location was the next logical step in a summer promotion.