Spotted! Visa's touchless TIFF installation
The credit card company, which has just entered into a new five-year agreement with TIFF, is using some motion-censored whimsy to spread the word about its product features.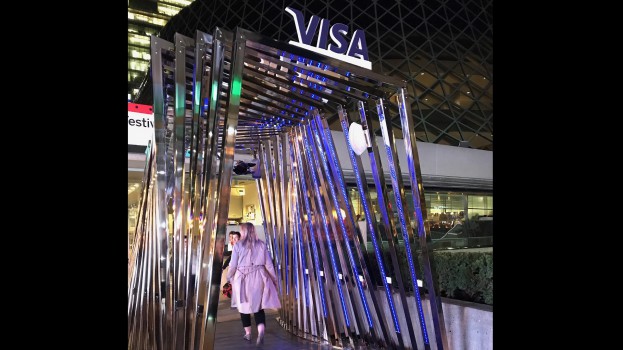 Visa is aiming to brighten up the night sky with its interactive activation at this year's Toronto international Film Festival (TIFF).
The company has taken up residence in front of Metro Hall, directly across from the bulk of the TIFF action. Its main attraction is a small outdoor corridor that festival goers can walk through. The chrome bars along the corridor are equipped with motion sensors that cause them to light up as pedestrians pass through, controlling the light pattern with their movements. The lights change colour and blink as people pass through, while speakers in the activation are also queued by movement so sound "follows" people through.
At the end of the corridor, a rotating camera captures an animation of the people passing through, resulting in a Boomerang-style image that they can download and are encouraged to share on social media. The images are also displayed on a nearby digital billboard.
The "touchless" nature of the installation is meant to reflect the Visa touchless payment that is available through mobile phones and smart watches. Visa also has included a demonstration of how to use the touchless payment feature a few feet away from the installation, where passersby can purchase water and popcorn.
Brenda Woods, head of marketing for Visa Canada, said the company has been increasingly focusing on offering fun and interactive installations at TIFF. Last year's TIFF integration incorporated AR to allow users to try on "costumes," while an earlier activation invited movie fans to tell an "infinite story" on social media. All have also incorporated educational components on Visa's new features, like Visa Checkout or Visa Infinite.
"Our sponsorship has really been developed to combine learning about our innovation and where Visa's going… with something unique and fun."
Visa has been a sponsor of TIFF for 20 years, and Woods said it has recently signed on for an additional five years. It represents Visa's largest arts and culture sponsorship in Canada. This year, the long-sponsored Visa Screening Room has moved from the Elgin Theatre to the Princess of Wales Theatre on King Street, which Woods said gives the brand a big boost, being a larger and more central theatre.
"Our challenge every year is making sure we're giving a great experience in terms of a lounge, priority seating and presale, as well as coming up with really interesting experiential activations."
This year, Visa is aiming for 10,000 interactions, which a rep confirmed is a 30% lift from last year.