The art, the science and all the data: The pace of change
Agency leads and top marketers discuss how to compete in the changing marketplace, and what trends they'd like to see left in 2017.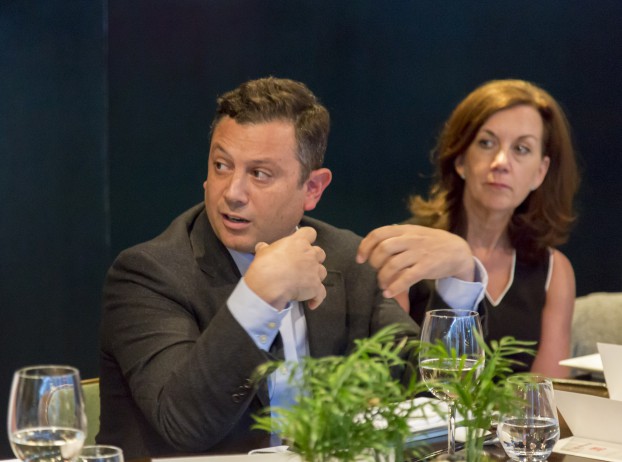 This article appears in the October 2017 issue of strategy.
By: Val Maloney and Bree Rody-Mantha
As the media industry braces itself for 2018, execs on the agency side and the brand side have gathered at the latest strategy/Media in Canada roundtable to discuss the vast changes seen in 2017 so far. The changes range from the emerging practice of marketing science to ever-changing job titles and descriptions, and consultancies sweeping in to fill the gaps (and for some, taking the place) of agencies.
Agency leaders and top brand marketers tackled what's taking up most of their time, what's becoming important to clients and what they'd rather leave in 2017. Featured in the discussion were Cathy Collier, CEO at OMD Canada, Robert Jenkyn, EVP at Media Experts, Joseph Leon, president of media at Vision7 Communications, Devon MacDonald, CSO, Mindshare Canada and marketing side partners Lori Davison, VP of brand, strategy and communications at Sick Kids Foundation, Christina Litz, SVP of marketing and content at the CFL and John Rocco, VP of marketing at Sonnet.
Need to catch up? Read part one here.
How do you compete against consultancies?
Collier: I think that we're in the midst of an evolution from being squeezed on margin to having real client business relationships that are based on fee models that are comparable to consultants. Probably not at the same rate as consultants, but clients are recognizing that having the talent that's required on their business costs money. And when you have the fee agreement, then you have that business discussion about value and what they are looking for. Most of our clients who have that kind of high-level relationship want someone who is skilled — people who are consultant-like in terms of their strategy.
It varies by client. We will always have those global clients that value dollars over everything else and I don't know when or if that will ever go away. And there are others that really see the link between media and business results.
How much of a competitive threat have the consultancies become this year?Leon: I was in a room a couple years ago with Accenture and Adobe where I was representing our media group, and if you'd asked me five or 10 years ago if Adobe, Accenture and a media agency would end up in the same room talking about the same project, I would have said, "You're crazy."
In that moment, it became very clear that there's this interesting white space around core strategy and operational strategy. As we're seeing [consultancies'] businesses evolve, we're also seeing our businesses evolve laterally in both directions.
 "If you'd asked me five years ago if Adobe, Accenture and a media agency would end up talking about the same project, I would have said, 'You're crazy.'"
We have an amazing foundation to build on from a consumer insight perspective and from understanding people, and that will evolve in very different ways over the next four years. That's our core currency, and I think it very heavily differentiates us.
I think you will also continue to see a lot of tension, especially around technology.
Davison: From a client side, I've been in a situation where I've had a creative agency pitching against an accounting firm. It's interesting because I do think the value exchange and the currency of the relationship is different. With media and creative, you're really looking at creativity and insight as the core proposition. Whereas with consultancies, it's more about time and process, and that seems to be the trade-off where you might lean toward a consultancy where you're looking for efficiency. But you compromise that sort of je ne sais quoi that you get with a media agency or a creative agency.
In my mind, they will never replace each other. It's different people, different ambition. There are different experiences, from my perspective.
Collier: Your point about being focused on efficiency is absolutely right. There's a difference between what's happening now and what's projected to happen. What's happening now is they are very focused on measurement. Versus on your Cannes lanyard, it says Accenture Interactive. That is where they want to go and they obviously have a lot of money to spend to be a part of the game. But right now the place they are occupying is very much in efficiency.
MacDonald: One area we have to do a better job at or we're going to lose, is [to] step away from the technology, demystify things and increase the value we have, because the consultants are excellent at that. Understanding the true core problems of launching brands.
Collier: The other thing that we've been doing more is having very specific business discussions with clients, which we didn't have before. Being able to link to business outcomes makes it very interesting and becomes very consultant-like. There's no one closer than us to the investments.
Jenkyn: We have to solve business problems, not media problems.
John Rocco: It's an art and science thing as well. As a company starting a new brand, there's a tremendous amount of trust we had to place in our media partner to help guide us with that. It's not binary. It's the experience of years of doing different categories.
We had worked with a consultancy partner on a promise of their deep analytics and understanding, and we worked for a number of months to get a proof of concept. At the end of the day it didn't work. The technology was fantastic, the analytics behind it was fantastic, but it lacked the fundamental business understanding to get us to the insights that we needed, the "so what" of the data.
We stepped away from it and are now looking at a more traditional model of using an analytics arm of a media agency.
It's simple to say it's the art and science, but it truly is. It's understanding all the information you have and being able to solve a business problem for me and giving me something to do with it. It's that personal understanding and being embedded in the business.
Coming back to the internal focus: what have you put the most hours into in 2017?
Leon: Up until this role, my entire life has been working in startups. The point of the startup culture is iteration, scale and reiteration and rescale. What we do as a media group [has never] been closer to what I've done the rest of my career. I think the two are very alike.
It's a distillation of everything we have talked about today. I call it service design. There's massive technology and data opportunity, and if we unlock that potential, it leads to the evolution of our services and products.
Our ability to design new products, test them, scale them and diversify what we do is actually where we spend most of our time.
For me, I would say service design.
MacDonald: To paraphrase: the pressure from consultancies, the expansion of digital media companies, planning for the future — we see this change, we see the complexity, we see what's going on — and what are we going to do? This is what keeps us up at night. What are we going to do in two years, how is the model going to look? How are we going to continue to evolve and run healthy businesses that serve clients given the change and the investment that's required?
Jenkyn: It's all kind of part and parcel.
Clients first and foremost, and you spend a lot of time there. And that informs service design. Talent has been one of the biggest issues for the last 15 years. I think it still is, because of that pace of change. Maybe 10 years ago it was about finding someone with digital smarts, and now digital natives are all around us. It's more about certain levels of technology, as well as that creative side and strategic side and marrying them all together.
Collier: We have our north star where we're going in the next couple years. And the thing that's going to get us there is people. We're building a marketing science community that will enable us to get where we need to be. It's amazing that these people exist, and they come from all walks of life. They bring a richness and validation to what we're providing our clients.
We need to be evolving our strategic frontline people to go from being middlemen who are trading, to people who can be client partners and interpret the data and distill that business objective.
Talent takes 70% of my time.
When it's 2020, and we're back at this table drinking wine that's three years older and looking back at 2017 — what would you say this year was all about?
Jenkyn: It's This is the year that everyone's "The Uber of this!" and "The Uber of that!"
Davison: One thing we have been getting behind lately is the importance of influencers in marketing strategies. It's not just earned, it's paid. As amplification, influencers are huge, and they haven't been core to brand and marketing strategies, they've been a bit peripheral, but I think that's becoming more central.
Collier: I hope that when we look back at 2017 it's the year that we stopped using the word digital and it just kind of faded out; out of job descriptions, out of job titles, out of articles. And we just started thinking of it as one world
Photos by: Kevin Cordick