Heritage minister's culture policy offers vision, few hard details
The government's Creative Canada vision lays out a plan for the digital future to mixed reactions.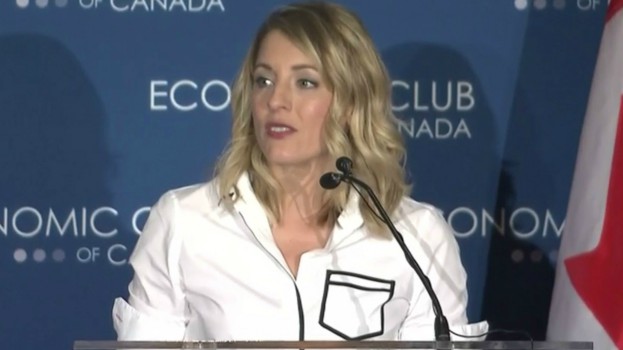 With files from Val Maloney
Heritage Minister Melanie Joly outlined the federal government's broad vision for creative and media industries in a speech Thursday following months of consultations with media, content creators and stakeholders.
Media owners have reacted to one of Joly's biggest announcements – the unveiling of $500 million of investment from Netflix – but there was little  actionable news for national ad buyers who are waiting for more decisive policy changes with regards to industry regulation.
Local news, the CBC's governance and Canadian content creators were the focus of the launch of Creative Canada, a policy framework expected to shape the Liberal government's media priorities over the coming years.
Broadly, the policy's aim is to help Canada's media and cultural industries better transition to the digital world. "Our approach will not be to bail out industry models that are no longer viable," said Joly, opting instead to invest in the discovery of new business models, enable content creators, and partner with international players to get Canadian content a platform on the world stage.
The public broadcaster
The CBC was highlighted, with Joly noting that the government is renewing the pubcaster's mandate. In June of this year, the government announced an independent advisory committee tasked with selecting new leadership for the CBC. The independent committee, which will include broadcasting and digital technology experts as well as representatives from the cultural sector, Indigenous and minority language communities, will recommend qualified candidates to Joly and create a roster that could be used for future vacancies at the CBC.
"This is an important moment for the CBC to look ahead and consider the critical role they have in providing a uniquely Canadian experience on a uniquely Canadian platform," said Joly.
Joly made no specific mention, however, of the CBC's November proposal that it move to an ad-free model.
In a note to media agencies, Jean Mongeau, general manager and chief revenue officer for CBC & Radio-Canada Media Solutions, said "this means that it is business as usual for the Media Solutions group and for you." In his note, Mongeau wrote that Creative Canada "is an important first step in strengthening Canadian creative and it is very positive to hear Minister Joly reaffirm the importance of the public broadcaster, and the government's desire to strengthen the mandate of CBC/Radio-Canada."
Ink and paper, zeroes and ones
In the new policy, the Canada Periodical Fund will remain the federal government's primary support program for Canadian magazines and paid community newspapers going forward.
The government says it will be "modernizing" the fund through 2020. Changes could include a model that focuses less on print subscriptions and more on the costs of creating original Canadian content across platforms. Joly said the current model of basing most funding on print circulation doesn't reflect the reality that many Canadians are reading magazine and paid community newspaper content on multiple platforms.
As part of the focus on local news, Joly announced a partnership between Facebook, Ryerson University's Digital Media Zone and its School of Journalism to create a digital news incubator, the first of its kind in Canada.
Participants in the program will receive start-up funding and mentorship to accelerate ideas that contribute to digital development of journalism, as well as a spot in the DMZ.
Facebook will also work with the Canadian Journalism Foundation to promote news literacy in a partnership to be announced later this fall.
Also announced was a partnership with Google to provide new measures to support digital subscriptions and increase discoverability for news publishers. That will include the launch of Canada NewsWorks, a program that will develop resources for national, regional and local news publishers.
That program is still under development, according to Joly, but will focus on workshops, roundtables, events and building case studies and best practices to provide a forum to discuss products and platforms, as well as supporting potential new revenue opportunities for news publishers.
Perhaps the biggest headline tied to Creative Canada emerged the day before the speech, when CBC reported Netflix would commit $500 million dollars to creating Netflix Canada, the streaming company's first permanent production facility outside the U.S. Joly revealed in her speech that Netflix was also committing $25 million to a "market development strategy for French-language content and production—both within Quebec and in Francophone communities across Canada."
Unifor national president Jerry Dias issued a statement Friday saying the Netflix investment was a positive move, but lamented that further action was not being taken to protect Canadian journalism and their avenues of reaching the public. He called for faster long-term action to keep Canadian media viable in the increasingly digital future.
Dias called for more significant investment from Google and Facebook in Canada's news industry. "Journalists are being laid off and news coverage is sinking because Google and Facebook are grabbing the advertising dollars. This government has to respond before it's too late," said Dias.
Industy reacts
Rob Young, SVP of planning services at PHD Canada, said much of the Joly's announcement was positive, but the big issues that will affect media buyers and planners are yet to come – namely, the review of the CRTC's mandate, the Broadcast Act and the Copyright Act – all of which were mentioned in Joly's speech, but with few details beyond their announced review.
"They're pushing the really dangerous stuff down the road a little bit," Young told MiC.
Most of Canada's major media companies issued statements responding to the government's new vision policy. Quebecor Media and Bell Media both expressed concern with what they saw as unnecessary reliance on non-Canadian companies (namely Netflix) that they argued were being given an unfair advantage.
"We are dismayed by the Minister's repudiation of Canadian companies, which invest heavily to support the development of our culture, make a major contribution to our economy and are actively involved in their communities," Pierre Karl Peladeau, Quebecor's president and CEO, said in a statement.
"The Minister is endorsing a two-tier system," Peladeau said. "On the one hand, there will be foreign platforms that will be able to engage in unfair competition by producing content without taxation and without being subject to Canada's regulatory framework, while receiving production tax credits. On the other, there will be Canadian distributors and broadcasters, which will be taxed and bound by strict and restrictive regulations. That is blatantly unjust."
Bell Media stated that the $500 million Netflix investment is "a fraction" of what Canadian mediacos are required to pay. "Our total annual investment in Canadian content in 2017/18 is nine times the average amount that Netflix would contribute yearly," the company said. While acknowledging that the industry is quickly changing, Bell called for "a level playing field for all participants… That includes an equitable tax regime and balanced approach to investment in Canadian content."