Scotiabank embraces short form for new Heroes of Hockey Day season
Why the bank is focusing on more "snackable" content this time around.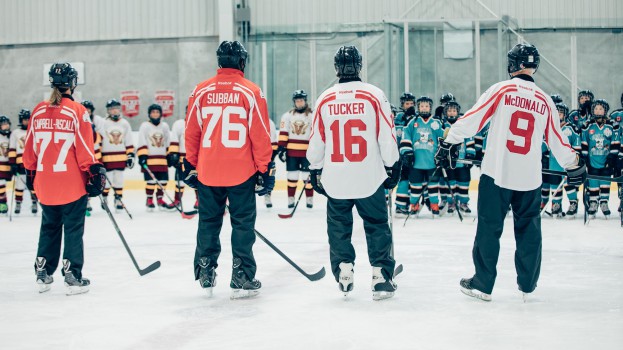 Scotiabank is launching a second season of its cross-platform series, Heroes of Hockey Day in Canada, but is changing the format to drive stronger engagement.

The unscripted reality series came back to the airwaves Oct. 4, with a 90-second episode airing during Scotiabank Wednesday Night Hockey on Sportsnet, as well as on YouTube.
The series, which will continue for the next 20 weeks, features young hockey players from teams across Canada who have done significant work in their local communities, squaring off for a chance to win a trip to the Scotiabank Hockey Day in Canada in Corner Brook, Newfoundland and Labrador in March. The one-day celebration brings together all seven of Canada's NHL teams for a marathon hockey broadcast, as well as other family-friendly hockey activities.
Last year's season of Heroes of Hockey Day was Scotiabank's first foray into serialized storytelling. It delivered positive results, with a competed view rate 800% higher than its benchmark target, logging a total of 20 million video views and more than 16,000 hours of content watched. Shares and likes also exceeded expectations by 126% and 148% respectively.
The company is hoping to build on that success by adding to its format.
Jeff Anders, CEO of The Mark, which produced the series, said the move from short-form to even-shorter-form was made to help with engagement.
"Last year we did some longer-form, five-minute versions of episodes to provide a more in-depth version of the story, but what we didn't have last year was the snackable, really short, native social content," he said. "This year, we shifted the budget from longer-form webisodes into several dozen pieces of short, snackable things like animated GIFs, really short videos, shareable, cute things."
It's also added the star power of hockey broadcaster Ron MacLean to provide commentary to audiences throughout the series.
Jacquie Ryan, VP of sponsorship marketing and global philanthropy at Scotiabank, told MiC that the series has been crucial for creating overall brand awareness, as well as driving brand equity, consideration among customers and loyalty with existing customers. The quintessentially Canadian nature of hockey is also a key pillar of Scotiabank's brand strategy, she said — the bank recently renewed its NHL sponsorship contract for another five years, and it recently acquired the naming rights to the home of the Toronto Maple Leafs and Raptors, which will come into effect in mid-2018.
Scotiabank worked with The Mark for series strategy, creative and production, PHD on media, Bensimon Byrne on social strategy, and MKTG on sponsorship.
This season of Heroes of Hometown Hockey will follow two Scotiabank-sponsored youth hockey teams, the Orillia Terriers and the Vancouver Angels.