Outfront sets up at Yonge-Dundas
As the OOH company looks to expand on the digital front, it's incorporating with more community groups.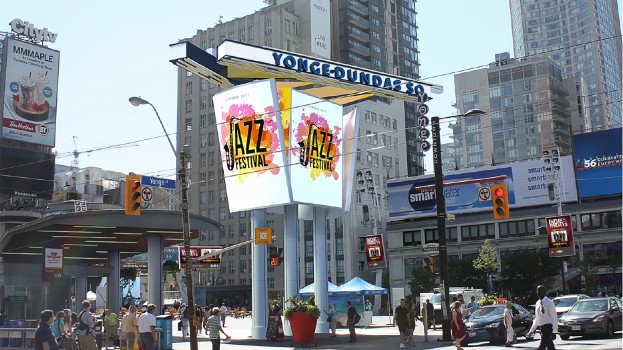 Out-of-home company Outfront Media has rolled out the first six of its 10 new digital faces at Toronto's Yonge-Dundas Square.
The first six to go up are found at the northeast corner of the square. The remaining four, to be installed in early 2018, will be built on the northwest corner, with four screens (measuring 15 feet by 23 feet each) on four sides of an incoming "media tower" (rendering pictured).
The new installation is Outfront's first activation at or adjacent to the square itself, where its signs will compete for attention against the likes of Branded Cities' 8,454 square-foot board and Astral OOH's new wraparound digital board.  Outfront does, however, already operate in the vicinity about half a block from the busy square, which is traversed by a reported 66,000 pedestrians and more than 55,000 automobiles daily.
Of the 10 faces that are part of Outfront's plan, five of those will remain controlled entirely by Yonge-Dundas Square (these five are among those already standing). Outfront's VP of marketing and technology Amanda Dorenberg said these screens will be used primarily to promote Yonge-Dundas Square's events and additional community messaging. However, there will be no paid advertising from outside brands on the boards.
Dorenberg said this strategy has become an increasingly prevalent part of Outfront's expansion strategy. "This is the largest initiative of this nature we've done," she told MiC. "We've done this a few times before, but we haven't built or developed dedicated screens for communities."
Dorenberg said the strategy of engaging community groups will be "a heavy focus" for Outfront's upcoming projects, and it is especially focused on digital expansion in the country.