Overnights show Grey Cup audience increased
After seeing a decreased AMA last year, the CFL's big game draws 4.3 million on TSN and RDS.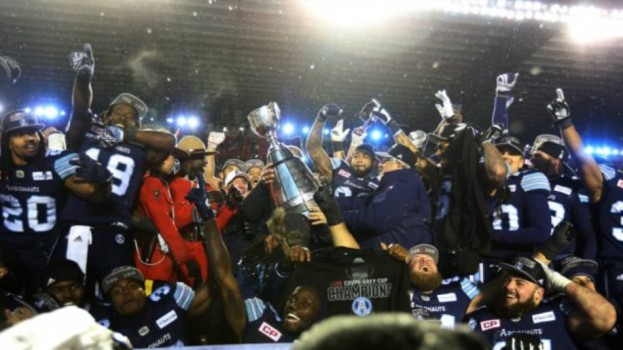 Bell Media's TSN and RDS sports channels drew strong audiences Sunday for the 105th Grey Cup, which earned an AMA of 4.3 million Canadians.
The broadcasts' overnight Numeris numbers showed the game had nearly 10 million unique viewers overall, with a particularly strong showing in the fourth quarter. That's when almost six million viewers watched Toronto's Matt Black intercept a touchdown pass that sealed the Argonauts' victory over the Calgary Stampeders.
TSN 4′s average audience for its English-language broadcast was 4.1 million, and RDS charted about 220,000 for its French broadcast.
The Ontario TV market of Toronto/Hamilton produced audiences 58% larger than last year's Grey Cup game, according to Numeris data provided by Bell Media.
Bell Media said Sunday's game was the most-watched Grey Cup since 2013, charting a 10% increase over last year's national audience.
The day's coverage began at noon with pre-game programming ahead of the 6:30 p.m. kickoff. Across all Cup-related shows, 10.6 million viewers tuned in at some point.
Online, TSN Digital reported an audience increase of 22% over last year.
The game was presented by Shaw, with Nissan, BDC Financial and GMC also signed on to large-scale sponsorships.