Grey Cup tops the ratings: Numeris
Plus, The Indian Detective enters the top-five.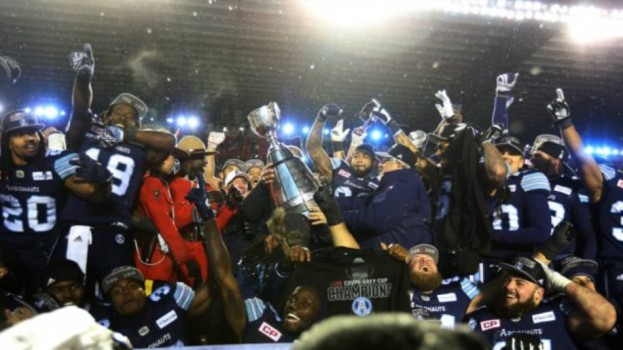 There was a new ratings champion on top of the Numeris charts for the week of Nov. 20 to 26. After eight weeks with The Big Bang Theory at the top, the CFL Grey Cup pulled in the highest AMA of the week for single night programs with 4.1 million viewers. It also represented a major boost over last year's broadcast, which came in at 3.65 million last year.
While the Grey Cup, which aired on TSN, was the first program besides Big Bang to take the top spot since early October, it's worth noting that there was no new episode of the CTV comedy for the week.
Instead, coming in second place was another CTV series, medical drama The Good Doctor. The series made gains over last week, pulling in 3.04 million viewers (up from 2.86 million). Holding in third was Big Bang prequel Young Sheldon at 2.92 million.
Global reality series Survivor took the fourth spot with 2.26 million viewers. Rounding out the top five was a new entrant to the top of the list, CTV's The Indian Detective starring Russell Peters. The action comedy pulled off 2.12 million viewers.
The Grey Cup broadcast unsurprisingly dominated most Anglophone markets, with the exception on Montreal. There, the game only registered eighth out of all single-night programs, while The Indian Detective and Young Sheldon split the lead with 112,000 viewers each. In Grey Cup host city Edmonton, viewers were even more enthusiastic for the match, with the match and its pre- and post-game coverage taking the top three spots (pre- and post-game coverage also landed in Calgary's top-five).
With no new episode of La voix junior for the week, the Quebec Francophone market was instead led by SRC's Unité 9, which pulled in 1.52 million viewers.
Canada
1. CFL Grey Cup on TSN Sunday at 6:41 p.m.: 4.10 million viewers
2. The Good Doctor on CTV Monday at 10:01 p.m.: 3.04 million viewers
3. Young Sheldon on CTV Thursday at 8:30 p.m.: 2.92 million viewers
4. Survivor on Global Wednesday at 8 p.m.: 2.26 million viewers
5. The Indian Detective on CTV Thursday at 9:01 p.m.: 2.12 million viewers
Montreal (Anglophone)
1T. Young Sheldon on CTV Thursday at 8:30 p.m.: 112,000 viewers
1T. The Indian Detective on CTV Thursday at 9:01 p.m.: 112,000 viewers
3. The Good Doctor on CTV Monday at 10:01 p.m.: 104,000 viewers
4. This Is Us on CTV Tuesday at 9 p.m.: 84,000 viewers
5. Lucifer on CTV Monday at 8 p.m.: 74,000 viewers
Quebec (Francophone)
1. Unité 9 on SRC Tuesday at 8 p.m.: 1.52 million viewers
2. L'échappée on TVA Monday at 8 p.m.: 1.38 million viewers
3. Tout le monde en parle on SRC Sunday at 8 p.m.: 1.37 million viewers
4. Boomerang on TVA Monday at 7:30 p.m.: 1.17 million viewers
5. L'expérience Messmer on TVA Sunday at 7 p.m.: 1.10 million viewers
Toronto/Hamilton
1. CFL Grey Cup on TSN Sunday at 6:41 p.m.: 983,000 viewers
2. The Good Doctor on CTV Monday at 10:01 p.m.: 704,000 viewers
3. Young Sheldon on CTV Thursday at 8:30 p.m.: 692,000 viewers
4. CFL Grey Cup post-game coverage on TSN Sunday at 10:03 p.m.: 554,000 viewers
5. The Indian Detective on CTV Thursday at 9:01 p.m.: 539,000 viewers
Edmonton
1. CFL Grey Cup on TSN Sunday at 6:41 p.m.: 316,000 viewers
2. CFL Grey Cup post-game coverage on TSN Sunday at 10:03 p.m.: 144,000 viewers
3. CFL Grey Cup countdown on TSN Sunday at 6 p.m.: 128,000 viewers
4. Young Sheldon on CTV Thursday at 8:30 p.m.: 112,000 viewers
5. The Good Doctor on CTV Monday at 8:01 p.m: 91,000 viewers
Calgary
1. CFL Grey Cup on TSN Sunday at 6:41 p.m.: 467,000 viewers
2. CFL Grey Cup countdown Sunday at 6 p.m.: 217,000 viewers
3. The Good Doctor on CTV Monday at 8:01 p.m.: 168,000 viewers
4. Young Sheldon on CTV Thursday at 8:30 p.m.: 153,000 viewers
5. CFL Grey Cup post-game coverage on TSN Dunay at 10:03 p.m.: 147,000 viewers
Vancouver/Victoria
1. CFL Grey Cup on TSN Sunday at 6:41 p.m.: 300,000 viewers
2. The Good Doctor on Monday at 10:01 p.m.: 212,000 viewers
3. Young Sheldon on CTV Thursday at 8:31 p.m.: 193,000 viewers
4. Survivor on Global Wednesday at 8 p.m.: 185,000 viewers
5. NCIS on Global Tuesday at 8 p.m.: 173,000 viewers