Spotted! Soup's on!
Sony Pictures Entertainment Canada is appealing to hungry (and cold) Torontonians to promote the release of Peter Rabbit.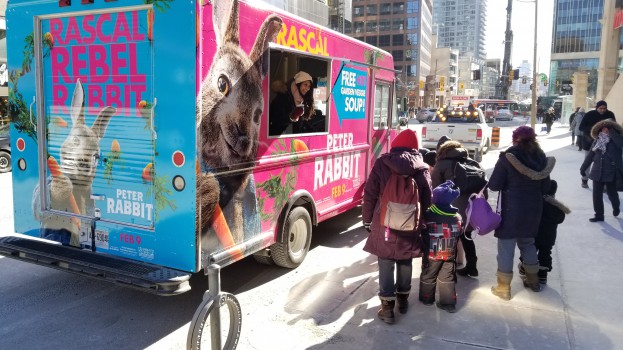 Groundhog Day saw a major chill hit Toronto, so Sony Pictures Entertainment Canada hopped in to warm things up.
The entertainment studio launched a branded food truck themed after its latest family release, Peter Rabbit. The truck cruised around Toronto Friday, offering free soup to Torontonians and will continue doing so for the  week leading up to Peter Rabbit's Feb. 9 release. The soup is, fittingly, garden vegetable soup.
The activation targets families with children ages five to eight, so the truck will appear near parks, skating rinks, libraries and other family-oriented outdoor locations. It will make appearances from 11:30 to 3:30 on weekends and from 3 to 7 p.m. on weekdays.
Jessica Billinghurst, senior communications strategist at UM (which did media planning for the campaign), said the food truck activation is the most prominent piece of paid media for the film's release. "We are, of course, promoting through digital channels, but this is the major outdoor surprise activation we're putting a lot of stock in."
UM partnered with experiential agency Eat It Up Media on the activation. On top of the food truck, UM and Eat it Up have also created digital ads in Montreal supermarkets' produce sections (pairing, Billinghurst said, with the carrot theme), a new product that Eat it Up unveiled earlier this year.