Spotted! Spies on the streets in Toronto
Twentieth Century Fox Canada planted sparrows on downtown streets to create a sense of paranoia — and buzz for its latest film.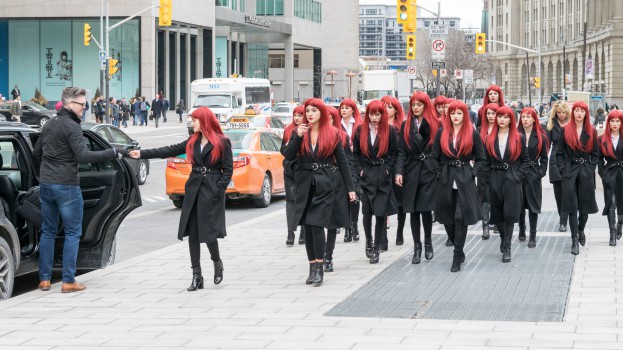 Do you feel like you're being watched? Maybe you're onto something.
Twentieth Century Fox Canada recently embarked on a marketing stunt to promote the release of its new action thriller, Red Sparrow. The film stars Jennifer Lawrence as a Russian spy who becomes a double agent.
To promote the film beyond traditional marketing efforts, the studio paired with Zenith Media and Eat It Up Media to create an experience on March 1, when 20 models dressed in identical outfits (matching Lawrence's style in the film) walked the streets of Toronto's downtown core, marching in a crowd and drawing the eye of pedestrians.
The models, who are doing another tour of the city on Friday, are also handing out "business cards" adorned with a kiss of red lipstick (to match the one worn by Lawrence's character) and the movie's showtimes. They are occupying high-traffic areas in the city, particularly those near major theatres.
Costas Andreopoulos, VP of marketing for Twentieth Century Fox Canada, said the goal wasn't simply to apply a guerrilla marketing approach to any old movie. He said this film in particular warranted it. "The whole element of mystery is very important to the film," he said. "We have our radio, television, digital, out of home, all the traditional media. But this is the cherry on top that we really think was missing. It helps make it a little more slick, a little more interesting to the general public."
Ivan Lee, senior account executive at Zenith, said the film is fairly broad in its target audience, with an intended demographic of 18 to 49 for both genders. The activation's goal was to target "heavy moviegoers" with the experience. He said Toronto's Yonge-Dundas Square was particularly key for this, not only for its proximity to a major cinema but its centrality, making it key for mass awareness.
"The notion of mystery can be difficult to bring to life in the flesh, but we think this activation really hits it home," he said.
Lee and Andreopoulos said the two partners are currently working together to conceive what kind of original content can be created from this experience in order to give it a longer shelf-life as a promotion.
Red Sparrow premieres Friday in Canada.