MLSE partners with Waze to improve its app experience
The wayfinding service helps Leafs and Raptor's fans get to the game (and helps buyers target around the Air Canada Centre).
Community-based navigation app Waze and Maple Leafs Sports and Entertainment (MLSE) are teaming up to launch a new tool in the Toronto Maple Leafs and Raptors' apps. The end game? To create a digitally connected experience for fans whether they're cruising down the 401 into Toronto or looking for parking lots around the arena.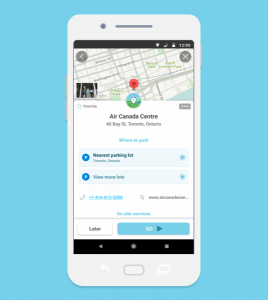 The partnership was made possible through Waze's Global Event Partner Program, which provides traffic data from the app's user to partnered media properties.Along with helping the fans get to games faster by mapping routes around bad traffic, Mike Wilson, Canada country manager at Waze said the data provided by his company will help ad buyers target consumers near the sport venue, as well as increasing visits and purchases in and around the arena (which, by the way, will soon have a new sponsor's name over the door).
The new tool uses Waze's mapping services to determine the fastest driving route to the teams' arena in downtown Toronto or to user-set destinations where they may otherwise watch the games.