Hudson's Bay, CTV take the top: Media Monitors
Auto dealers were still the biggest category buyers in both Toronto and Montreal.
Hudson's Bay moved up four spots to become the top radio advertising buyer in the Toronto market last week.
The retailer purchased 915 ad spots for the week of April 16 to 22, just barely edging out second-place finisher McDonalds (911 spots) as the top buyer.
The top five was rounded out by advertisers that had not been on the Media Monitors top 100 charts the previous week: the Nissan Dealers Association, the Ford Dealers Association and Rogers. Also new to the top 10 were Acura (#6), Rona (#7) and Honda (#9). With the prominence of auto dealers on the list, it should come as no surprise that the top category buyer in Toronto was car and truck dealer associations (with a total play count of 3,569).
In Montreal, CTV remained the top buyer, followed by McDonald's. The QSR, which moved up from #3 the previous week, switched spots with Virgin Mobile for the week. Virgin was followed by Shopper's Drug Mart, new to the list at #4, and the top-five was rounded out by the Mitsubishi Dealers Association (up from #7).
Car and truck dealer associations were also the highest category buyer in Montreal, with a total play count of 767 across the category.
Toronto, by advertiser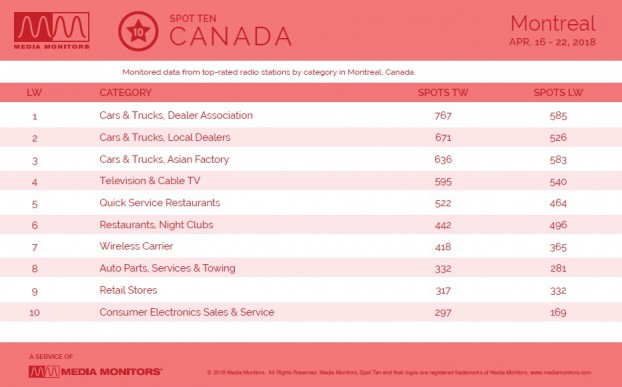 Toronto, by category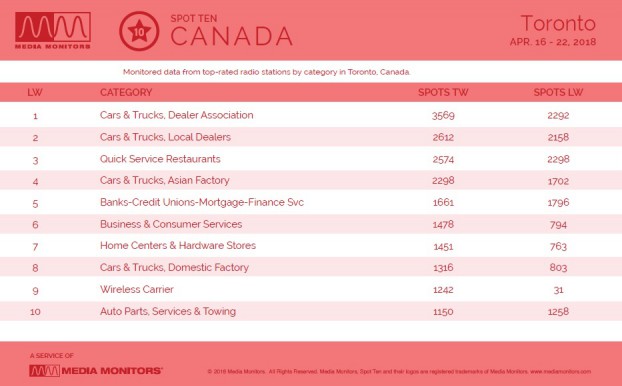 Montreal, by advertiser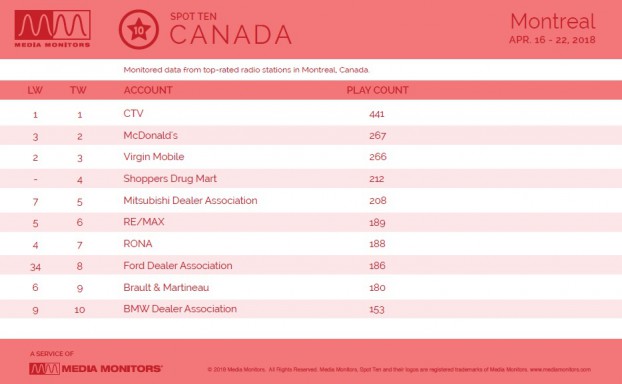 Montreal, by category