Coca-Cola takes over naming rights from the Ricoh Coliseum
The stadium is renamed the Coca-Cola Coliseum, home to the Toronto Marlies and Royal Winter Fair.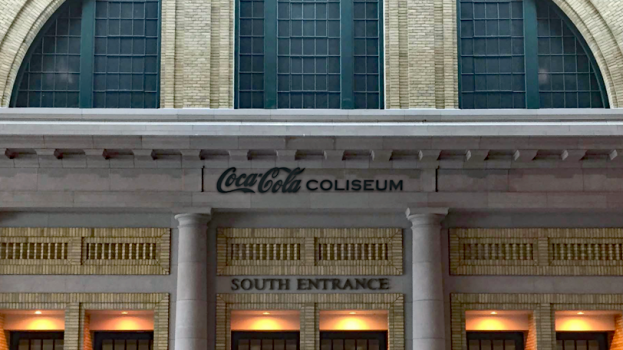 Toronto's Ricoh Coliseum just became the Coca-Cola Coliseum, thanks to an extended partnership with Toronto's Maple Leaf Sports & Entertainment (MLSE).
The 10-year deal sees Coca-Cola replace electronics company Ricoh, which held the naming rights for the past 13 years before it expired this month. The venue is best known for being home to the Toronto Marlies, Toronto International Boat Show and annual agricultural event The Royal Winter Fair.
To kick things off, Coca-Cola – which has been a partner of MLSE and its teams for more than 60 years – plans to donate a suite of seats to non-profit community organizations for every Marlies home game during the 2018-2019 season, and will also open the arena to the public for community skate events this winter.
According to Michael Samoszewski, VP of marketing at Coca-Cola, the deal was a natural extension of its existing relationship, and one that aligns with its goals to make a difference in the community.
"For us, this is about a sustained community investment and a long-term, continued relationship with our partners at MLSE," Samoszewski told MiC. "Just like the Coliseum, Coca-Cola has deep roots in Canada, and we are excited to demonstrate our commitment to our local community."
MLSE's SVP of global partnerships and retail Jeff Deline said that Coca-Cola is a natural fit for the stadium because it shares the same values with the organization.
"There's a lot of pride when you get the right branded partner and association, and [that] our brands stand for [something] together," he said. "I think having Coke associated with the boat shows, the Royal Winter Fairs and the Marlies is great for everyone involved."
Deline could not reveal the financial value of the deal.
Although Ricoh's naming rights expired, Deline said the company will remain a partner in a capacity yet to be announced. "Thirteen years ago, or probably 14 years ago, we did this deal with Ricoh, [and now] their priorities have changed and they wanted to do some different stuff, so we worked together to build a different solution for them," he said.
Other MLSE partners include Molson Coors, Bell, Ford and Scotiabank, which signed a 20 year deal last August to become title sponsor of the Toronto Maple Leafs and Raptors arena.