Spotted! Hit me with your best shot
As part of its sponsorship, National Bank chose to gamify its presence at the Rogers Cup.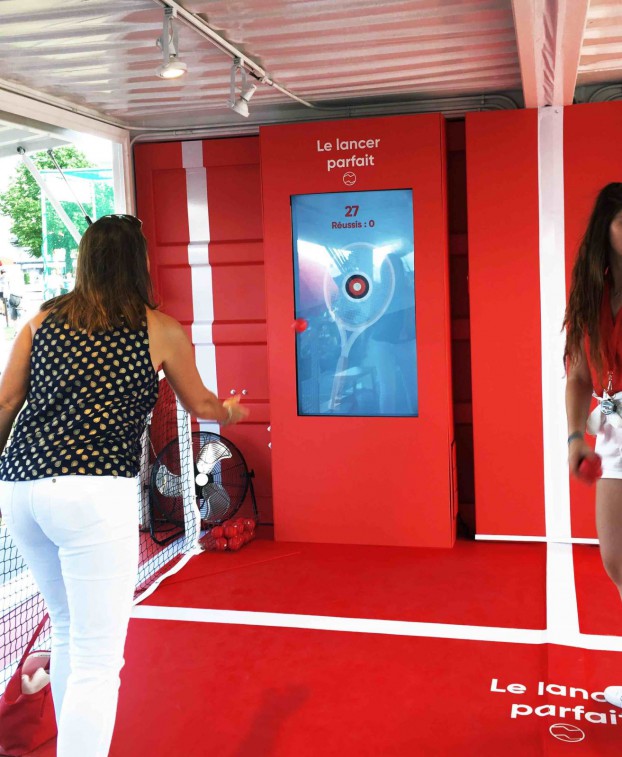 For the past seven years, National Bank has been a sponsor of the Rogers Cup, where it's held on-the-ground experiential activations.
The financial institution has made its presence known at the tennis tournament through digital signage and on-site promotion, but this year, the presenting sponsor added a bit of fun and games to its presence – and some extra relaxation.
During the tournament, which took place Aug. 4 to 12, National Bank offered a special terrace for matches, giving viewers an up-close view of the games while offering some shade and a unique vantage point. But beyond the chance to lounge in the shade while watching superstars like Denis Shapovalov and Milos Raonic, the terrace also combined traditional outdoor advertising with games for viewers to play.
One corner of the terrace included digital screens that challenged audience members to take the "perfect shot" by throwing (light, screen-friendly) red balls at the tennis racket onscreen. Winners received prize packs of branded swag from National Bank.
Although National Bank has always been on the ground at the cup itself (including title sponsorship of the cup's main court), it was the bank's first time offering the terrace/lounge concept, which was spearheaded by Vibrant Marketing. The game was part of National Bank's efforts to promote its commitment to tennis, while placing the bank in the forefront of consumer minds.