Scott Moore on sports, balance and 'storming the castle'
The outgoing Sportsnet president helped build the network into a specialty behemoth. Now, he says, it's time to step back.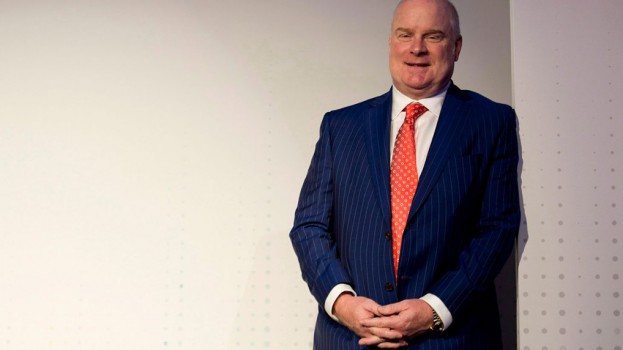 "For me, it's more fun to storm the castle than it is to defend it."
Sportsnet president Scott Moore laughs as he speaks to MiC about his eight-year tenure at Rogers Media as president of Sportsnet. Moore, who will officially clean out his office tomorrow, reflected frequently during the interview on the path he set out at Sportsnet on his first day.
It was an ambitious goal, albeit one Moore admitted is cliché for any media leader. "I wanted us to be the number one sports media brand in Canada in five years," he says. However, looking closer, he said he chose his words very carefully. "I said sports media brand, not television network, not radio network. I presented it as the brand, the conglomerate of all our efforts."
He says the tangible results prove that the network is a force to contend with in media; the combined Sporstnet channels delivered a 5.2 audience share in 2017 with an AMA of 193,000, while the flagship Sportsnet channel had a 3.7 share and an AMA of 138,000, making it the highest-rated Canadian specialty network. Digitally, its main site saw an average of 3.22 million unique visitors per month last year, making it the fourth-most visited sports website in Canada. In radio, its Sportsnet 590 The Fan station has a 5.0 audience share in it's target demo of men 25 to 54, and its three Sportsnet stations reach an average of 1.24 million Canadians per week.
While Moore couldn't divulge specific financials related to Sportsnet, as Rogers reports all of its media financials under one umbrella, he says over the last eight years, Sportsnet has seen "exceptional" financial growth and has "certainly bucked typical media trends."
It's established dominance. And now, Moore says, channeling his inner hockey fan, "there's some defense to be played." And that's where he felt it was his time to step back.
Moore has no specific plans for the future and doesn't plan on making a decision until January. In the meantime, he's had some "really nice conversations" about new opportunities. He's open to another job in sports, media or both, but he's also looking outside the industry.
He envisions something he can grow a little bit, coming back to the "storming the castle" metaphor. He also remarks that he'd like to settle into something that is "frankly, a little less corporate" that doesn't consume as much of his time.
"As much as I love the current job, it's become such a beast," he says. "Between seven television networks, the websites, the radio stations, the apps, I can't do the job justice anymore. It becomes 24/7, 366… even when I'm at home, I'm watching."
But as wide a breadth as the job covers, Moore resists the urge to flatter himself and say that he may need to be replaced by more than one person. As demanding as it is, he says, "I think the secret to it working is that we have brought all the platforms together. It's one brand. That was the key vision from the beginning – bring together The Fan [the flagship radio station], the magazine for a while, the website, the TV product, the digital. That's what makes Sportsnet better. One unit, one leader."
His advice to whoever replaces him is to not get caught up in the minutiae or be as much of a self-professed "micro-manager" as he was. "I don't think you can, or should, be as hyper-aware as I was, watching and listening as much as I did. There's a really good team of people there in charge of these individual parts."
He believes he's helped the network chart a clear path, but that doesn't mean the ship will steer itself.
"Sports media is just like all media," he says. "It has to go where the viewers are."
He admits that sports are somewhat more resilient than other forms of media, because it continues to be "best consumed live." And looking at the legacy of a program like Hockey Night in Canada, even compared to the most successful of scripted TV shows (like The Big Bang Theory, which has lasted 12 seasons), he says there's something unique about the staying power of sports. "It's more than engaging in the moment. It's passed down by generations. My father was a Habs fan, so I'm a Habs fan. The tribalism of it all may be overplayed at times, but it does give fans a certain reason to get up in the morning, check their app, turn on the radio, do whatever to follow their teams."
Despite sports' inherent strength, Moore says the team has to stay on top of trends and innovate. Sportsnet recently updated its OTT product to add a new premium tier and lower the price of its original tier, and earlier this year it paired with Twitter to produce an original, social-native series that focuses on hockey highlights, interviews and colour commentary.
"We always need to look at new platforms. Keep giving people that reason to get up and check on their teams."
Teams are what Moore will miss the most. "I'm a team guy at heart," he says. "Of course I'm proud of our financials, I'm proud of our [12-year broadcast] NHL deal, I'm proud of becoming the number-one brand. But I get far more pleasure out of mentoring, and seeing careers grow."