Sony, Roku pair to power sponsored 'streaming guide'
The companies are giving home TV and movie viewers a more theatrical experience to promote the newest Spider-Man film.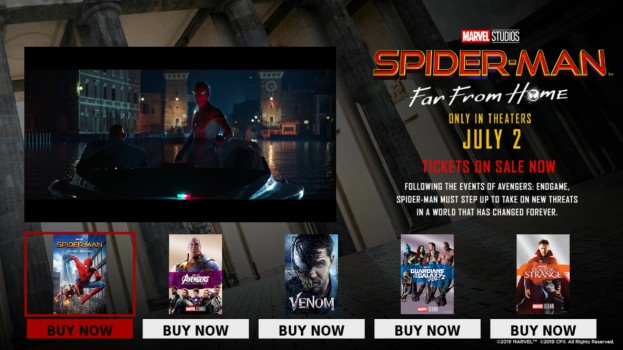 Sony Pictures Canada has partnered with connected TV technology and media company Roku to give home movie viewers a cinema-style experience in anticipation of the newest installation of the Spider-Man franchise.
With Spider-Man: Far From Home set to premiere July 2, Sony has added Roku to its promotional and media plan. Tapping IPG Medirabrands shops Cadreon and UM, it placed a targeted native banner on the homescreen of Canadian Roku systems, which was specifically geared toward likely Spider-Man audiences using Roku's first-party data.
From there, viewers are taken to a full-screen microsite (which Roku is calling a "streaming guide) where they're not only served with the Spider-Man trailer, but they also have access to five curated Marvel movies from Roku's Cineplex Channel to watch in full.
Julie McMillan, director of advanced TV and audio at Cadreon Canada, tells MiC the data sourced from Roku mainly identified users through consumed content, which resulted in targeting users with either an affinity for the franchise or affinity to the superhero genre all together. While McMillan says Cadreon has been working increasingly with connected TV platforms such as Roku on media buying and planning, she says in terms of the microsite, trailer and curated movies, this activation is the first of its kind in Canada.
The Roku ad buy kicked off June 10 and will last for three weeks.
Roku has 29 million active accounts worldwide, however it does not reveal Canadian-specific numbers. According to research by analyst firm Convergence Group there will be more OTT subscriber households by the end of 2020 in Canada than traditional TV subscribers.