TTC wifi logins are up, but is that a win for brands?
Mindshare CEO Devon MacDonald and Havas Village CEO Alex Panousis on why nine million impressions doesn't necessarily mean customers are engaging with ads.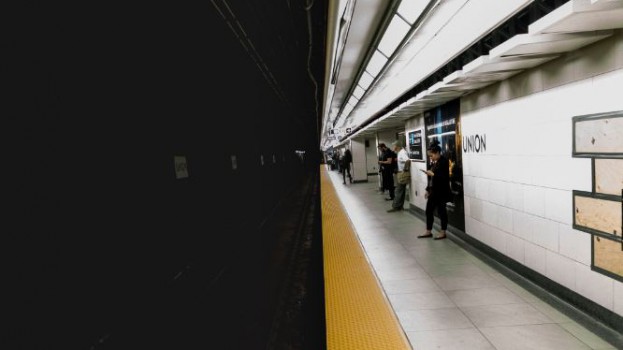 The number of users connecting to the Toronto Transit Commission's free public wifi network is growing, despite a lack of infrastructure keeping people connected throughout their journey.
The network, TConnect, is owned and operated by BAI Communications with support from out-of-home ad company Abcon Media. Recent numbers tallied by the pair reported 200,000 daily device sessions (a series of app sessions on a single device) among the TTC's 1.7 million daily subway passengers. This represents a growth rate of 9% year-over-year, and the companies expect to see a bigger increase in Q4.
Currently, all 75 TTC stations are wifi enabled – but the service does not extend to riders beyond that hot spot, throughout the tunnels that connect these stations.
Logging in, users are required to view ads via splash pages from brands like Mastercard, McDonalds, Twitter, Coca-Cola and eBay, in order to connect to the network. According to BAI, this has garnered roughly 9 million monthly impressions this quarter.
Devon MacDonald, CEO of Mindshare, is a daily subway rider; he estimates 99% of people in the TTC cars with him have a mobile device. Splash pages can provide "decent opportunities" for advertisers, he says, but most are looking to gain access to commuters via mobile devices for the duration of their trip.
"People are defaulting to downloaded content because they can't access any network," he points out. Not having that access to commuters up to 90 minutes a day is "a real missed opportunity in a key consumer moment," he adds.
The growth of TConnect has enabled it to enhance its ad platform to include unique buy-types, front-end customization opportunities, advanced analytics and digital reward system for conversions. A survey the network's company conducted through the login page amassed 37,000 responses in five days. Users were given an extended wifi session for participating.
Following the big quarterly increase, BAI also expects growth in Q4, which it identifies as a "key advertising period. It's projecting an additional 13% increase in impressions, delivering somewhere in the neighbourhood of 27 million.
Alex Panousis, CEO of Havas Village and president of advertising and media for Canada agrees reaching people during transit travel has "much potential." But she questions what is possible beyond just splash pages, which require creativity to be effective, she says, "or it just becomes digital wallpaper and we have a ton of that already that does not work."
Using technology to link transit ads to mobile devices through wifi is a great way to get creative, she says. "No one wants a digital detox on the subway and wifi adds to the overall customer experience," she says. "Wifi is an essential service."