Spotted! Interac embraces a sense of play
The financial services brand is targeting young people with a game to show them how easy it is to split the bill.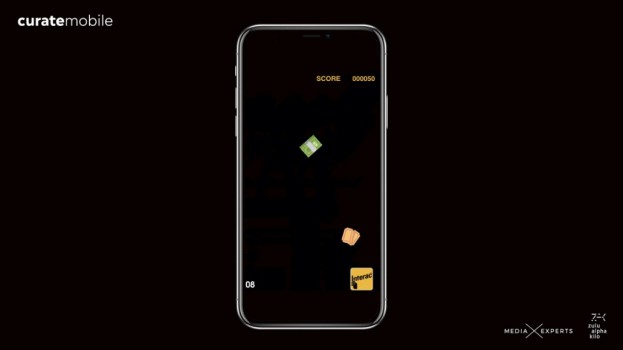 Money conversations can be awkward to have with friends. Whether you're asking someone to pony up the dough they owe you, or letting someone know that you can't quite afford to eat out, money talk isn't all fun and games. Or is it?
A recent Interac ad unit proves that money can be fun if you make it into a game. As part a targeted back-to-school campaign, with creative spearheaded by Zulu Alpha Kilo and Curate Mobile, and media by Media Experts, Interac played (literally) with a new ad unit.
Through Curate, Interac developed a gamified mobile ad unit. The game, which appears on mobile web, features objects flying into frame – the objects were designed after common things that students split bills on, like movie tickets, books or pizza – and users being asked to "split" them by tapping on the objects as quickly as possible and busting them into smaller pieces. At the end of the game, users are offered a chance to play again, or to split the bill for real, with the ad prompting them to use Interac e-Transfer.
The broader campaign was part of a back-to-school execution by Interac to target young people and get them more engaged with the brand.
The game was different every time, according to a Curate Mobile spokesperson, which helps keep the audience engaged. "Adding the 'play again' on such a fun interactive experience increases time spent as users want to keep playing," she said.
Like its other campaign currently in market, the holiday-themed "Stuff the Stuff," this is focused on experiences, such as getting pizza together. However, this also had a direct throw to a product, encouraging customers to use Interac e-Transfer when they need to split a bill.