Why Corus wants to get back to 'edgy' with The Edge
The B Team premiered this week, as the station looks to find its footing with a voice that is edgy, not alienating, for audiences and advertisers.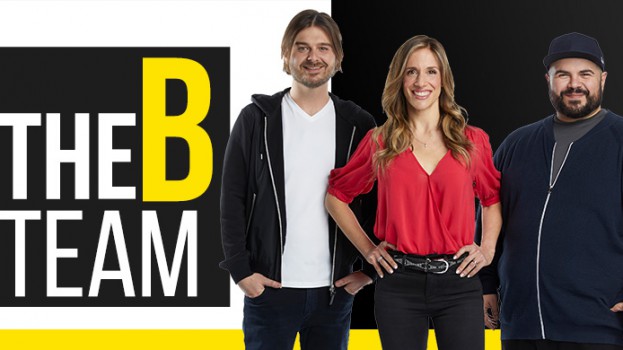 Tammy Cole, programming director of 102.1 The Edge, admits that the station hasn't always lived up to its name in the past year.
"Right now, we know it's time to bring a little edge back to the Edge," she says. The Toronto alternative rock station is set to launch a new morning show, henceforth known as The B Team. It's brought in the crew of Shawna Whalen, Jay Brody and Chris Ziemniak (Chris Z), former morning show hosts on sister rock station Y108 in Hamilton, to host the new show on weekdays from 5:30 a.m. to 10 a.m.
That edge-factor – or lack thereof – is something Cole admits is "quite different since the Dean Blundell days."
Blundell had been a host on The Edge until 2014 when he was ousted. Corus' official word at the time of the cancellation was that it was "taking 102.1 The Edge in a new direction," although his show had been publicly criticized for what many deemed to be inappropriate remarks and was the subject of numerous complaints to the Canadian Broadcasting Standards Council. Cole makes no bones about the Blundell days, stating that it was alienating for audiences and advertisers alike: "That was overtly offensive and over-the top. Naturally, a lot of us in radio have shied away in the last few years from doing anything that was really seen as overly bold."
The station had gone through numerous morning host changes since then, including Josie Dye and Greg Beharrell, Adam Ricard and Melani Mariani and, most recently, brother-sister duo Ruby and Alex Carr. Corus announced in late January that the Carrs would no longer host the morning show. While it still will not provide a reason for the Carrs' departures, the station's share has been either flat or slightly down for some time now.
As of the most recently quarterly PPM report (ended November 24), the Edge posts a 2.3% share for hours tuned among Adults 12+, down slightly from its previous 2.4%. The Edge performs slightly better with men 25 to 54, at 3.3%, although that demo was also down nearly a full percentage point from the last quarter. The station's share is nearly half of what it was during the Blundell days (4.1% for the quarter ended Nov. 24 2013).
Growing that share back is obviously a priority, says Cole, while bridging the gender gap is also a focus. "We're not looking to have an all-male station, which is why we have a lot of really strong women across all day parts, and Shawna Whalen is a really bold and opinionated woman herself." She estimates, however, that because of its pre-established audience that is more male, that realistically the station might still see a 60/40 split between male and female listeners.
Nevertheless, she says, Y108′s success in Hamilton – the steel city known for its arts scene – has given her confidence that bringing this team to the Big Smoke will give the station just the right amount of Edge. "We're very aware of the fact that it's a smaller market, we call them the B Team for that reason. But it's our most successful rock station that we have in our smaller markets, and they kill it across the board." For the Hamilton market, Y108 is the third-most-listened to station with a 5.5% share. It's strongest demo is with men 25 to 54, although she says "it doesn't alienate women."
As for Y108, its morning show will be replaced with the feed from London, Taz & Jim. The show will cover both markets with local traffic, news and updates. Cole says it made sense to bring in a pre-established show from another market, although she says, "we've always tried to push it as a regional show, rather than a local, 'London show.'"