Why Astral is feeling optimistic about its new digital face in Vancouver
Located in the heart of downtown Vancouver, the new board comes just as businesses are starting to open back up.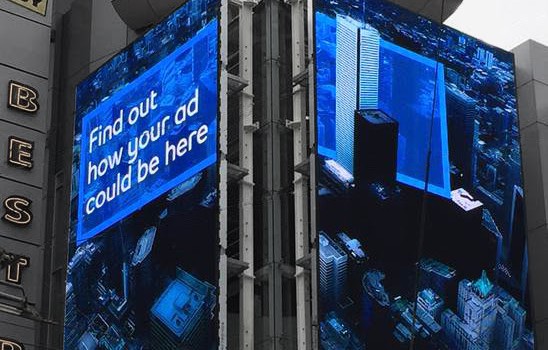 Bell Media's OOH arm, Astral, just unveiled two, side-by-side digital screens, each measuring 20 feet wide by 30 feet high. The screens can be purchased by advertisers separately or side-by-side to create extra-large creative. They're also Astral's largest faces in Vancouver yet.
There is not as much available inventory in Vancouver as there is in other markets of comparable size, like Toronto and Montreal. According to COMMB, which bases its estimation off of its membership and includes the majority of OOH companies in Canada, the majority of OOH inventory in Metropolitan Vancouver is owned by Pattison Outdoor. As a result, Astral does not have as large of a share in Vancouver as it does in other cities, and its inventory in Vancouver is 100% digital.
The new board is located on the northeast corner of Robson and Granville, which Jennifer Bidwell, director of digital and programmatic OOH at Bell Media, says is one of the city's busiest intersections for both vehicular and pedestrian traffic. The circulation is about 50,000 daily. It's located adjacent to the entrance of the CF Pacific Centre and Nordstrom's flagship store and, Bidwell says, it tends to get traffic from people travelling to large venues like BC Place and Rogers Arena. "It's really right in the hub of the city. We equate it as the Yonge-Dundas of Vancouver."
The project has been in the works for months, and of course its completion comes at a time when demand for OOH is down. But Bidwell is confident that this was still the right time to unveil the new board.
For one thing, she says, Astral has seen an uptick in RFPs over the last few weeks after a month of lulls. And, she says, as businesses begin to gradually open, she says OOH needs to serve as a key player to help brand-building (or, in some cases, rebuilding).
"For it to come to fruition, now is really important," she says. "We know that the economy will return, that consumers will return, and we're seeing businesses come back to life. Hoarding is coming down, and a lot of these clients rely on out-of-home to broadcast their messages."
She adds that the current conditions create a good opportunity for digital OOH, because creative can be swapped out quickly and there's a shorter lead-in time for activations. "We've seen over the past few years an increased investment in digital OOH. Productions and lead times are very short, so there has been a great opportunity for digital."