OOH traffic is increasing, but how does that translate to buying?
Buys are picking up on a regional level, and some newcomers are dipping their toes into OOH.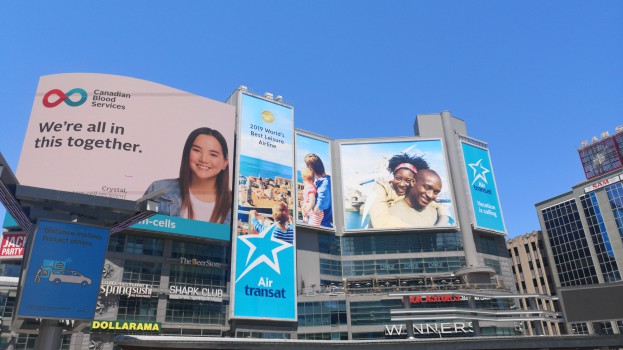 New travel data from the Canadian Out-of-Home Measurement and Marketing Bureau (COMMB) shows that as some restrictions lift and businesses re-open, Canadians are travelling more – and are being exposed to more OOH properties.
From the first week of reported numbers to the week ended May 24, Edmonton had the highest increase with 18 percentage points. Harder-hit Ottawa was up by six points, and Toronto was up by nine. Montreal and Halifax were both up 13 points, Calgary by 12 and Vancouver by 11.
While the seven-market average for the week still showed that levels are 30% below the national baseline, currently seven out of 10 people are on roads.
The OOH industry was hit hard by the pandemic – a deadly cocktail of declining ad budgets and OOH impressions, as well as a brief period in which changing the creative on static boards was not deemed an essential service, leaving some boards to see a dearth of new creative. Various agencies reported that vendors have been more generous than usual with bonus impressions and value-adds.
Although foot and vehicle traffic are on the rise, that doesn't mean ad spend is any less tepid. MiC reached out to two of Canada's most prominent OOH-specializing agencies to see where advertiser activity aligns with this increased foot traffic.
Debbie Drutz, president of Novus Canada, says from a vendor perspective that local markets are picking up in Western Canada, although most of the buying she has observed is more from a local perspective – there are fewer national plans that are moving past the planning stage at this point.
"Marketers are looking to where it makes the most sense," she explains. "The vendors are still saying things are slow overall, but they're seeing more activity at a local level."
In a lot of cases, she says, OOH hasn't yet served all of the same purposes that it used to. For example, she says, it's commonly used for national product launches, and one of the biggest categories for spending on product launches is CPG. However, with CPG shifting and delaying a lot of its spend and creative, she says many of those launches (and subsequent campaigns) have been pushed to fall.
On the flip side, says Drutz, plenty of categories that weren't previously big OOH spenders are now getting into that realm – meal delivery apps, for example, "previously might have done their marketing through their restaurant partners, many of them are starting to go direct-to-consumer" with plans to ramp up spending on OOH in the fall.
Overall, though, Drutz says she doesn't expect a seismic shift in OOH once things start to better resemble the pre-pandemic world. One thing that she does see changing, however, is an increasing preference toward digital.
Digital OOH was always on the rise, driving major growth for the medium, but she says the appeal of digital boards being able to swap out creative, pause and pivot on the fly is a major appeal for clients. "The vendors are putting together some really creative packages around digital, with really flexible cancellation policies – or deals like, 'Buy upfront for August and you'll save a certain percentage.' We don't want everyone calling in July and all of a sudden there's this panic to get everyone up into market."
That panic has already set in for some clients, says Kevin McDonald, CEO of Kinetic. Toward the beginning of the pandemic, McDonald said there were more than 20 clients who were currently in market – all of them paused and deferred their spend, save for two which cancelled altogether. One of those clients subsequently decided to go back into market, but McDonald says it was tricky. "They ended up losing some of their prime locations. When you're on a 52-week buy and you cancel, other national clients or local clients will scoop them up. So the clients who stayed the course, they kept their inventory."
Riina Clydesdale, president of Kinetic, says the COMMB data is "encouraging and exciting" and matches up with data gathered by Kinetic's own DSP. "We're able to track through mobile data through Hivestack and MIQ, and understand who's being exposed, where they're coming from. And we really are aligning with COMMB's data," says Clydesdale.
Like Novus, Kinetic is seeing clients take a more regional approach with buying – although Clydesdale says this has been happening for months now. "There are markets in Manitoba that never declined at all," she says.
Kinetic's tracking has also allowed the agency to direct clients toward different media types. "If you would have talked to us in the beginning or middle of April, we would have recommended residential screens, convenience stores screens, gas station screens. Now, grocery store visits are up, ride-sharing is up, transit is picking up – it's indexing closer to the norm."
McDonald and Clydesdale both anticipate that digital OOH will play a big part in the medium's recovery as well, not just because of the speed of delivery and execution but also because of targeting and data reporting. "As our clients step into this still-unknown world of ours – because COVID is still out there – they can understand activity, they can change their campaign date, they can change their creative," she says.