Spotted! Kraft Heinz and Waze send ads to drivers stuck in traffic
The navigation app's speed tracking lets Heinz target offers to anyone traveling at the same speed as its ketchup.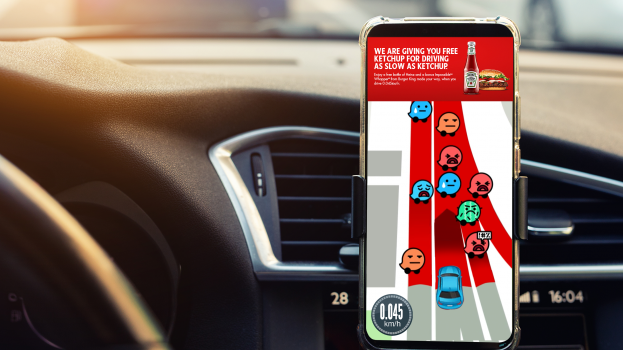 Kraft Heinz has enlisted navigation app Waze and Burger King to Heinz Ketchup is back with a new "slow" campaign.
Starting on Thursday, and until July 4, a media buy on Waze will include ads that vary based on a user's location, as well as the speed they are traveling at.
More specifically, some users driving at the same speed as the rate its ketchup comes out of the bottle – 0.045km/h – will be served an ad that includes an offer that can be redeemed at Burger King for an Impossible Whopper, topped with Heinz Ketchup.
Since 80% of Canadians plan to travel in 2021 without crossing hopping on a plane or crossing borders (according to a survey from the Travel Health Insurance Association of Canada), road traffic is anticipated to be worse this summer than in previous years. The campaign aims to target those who will be on the road – or, rather, stuck on it, with traffic moving along at ketchup-like speed.
The campaign is the latest that has leaned into how "slow pouring" Heinz Ketchup is as a brand attribute worth celebrating. Previously efforts have included tilting the label to show how a bottle should be held to get a perfect pour, a website that takes 57 minutes to load and a jigsaw puzzle that will likely take a long time to finish due to the fact that every piece is ketchup-red.
The campaign is being supported with an online video that integrates user-generated content from Canadians stuck in traffic, targeted social content and traffic-activated digital OOH that reacts to the speed of surrounding traffic and displays the campaign message as it slows. In addition, 40 micro influencers from across Canada have been engaged as part of a social effort, showing themselves stuck in traffic and redeeming the Waze offer.
Kraft Heinz's AORs will manage the campaign, with Carat on media, Rethink on the creative idea and The Colony Project on public relations.