Caroline Bergeron joins Horizon Media to oversee digital and data solutions
The newly created role is positioned to manage the rollout of advanced technologies, including the agency's connected marketing platform, Blu.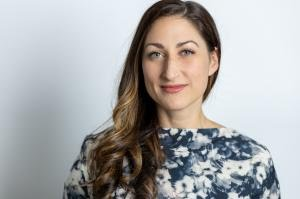 To bolster a focus on technology and data, Horizon Media has tapped Caroline Bergeron as its SVP, digital and data solutions. The newly-created role reports in to EVP and GM Kevin Kivi, and has a seat on the senior leadership team.
Bergeron (pictured left), an expert in addressable media and performance marketing, comes from a seven-year stint at GroupM Canada, most recently as VP, data and technology.
The new hire follows recent growth at the agency and the beginning of new hires to handle it, Kivi says. "We have had some growth but there's nothing I can announce yet. What I can tell you is we're actively working and we have some new accounts that we've won but with NDAs, we have to be mindful because there are some clients that would be considered new entrants into the marketplace. We definitely have the business development engine working at full speed."
At Horizon, part of Bergeron's mandate is to oversee the development and rollout of the Blu. platform in Canada, Horizon's foundational audience platform that was deployed in the U.S. 18 months ago, fully built in-house from scratch.
Bergeron says, "Blu. is our omnichannel planning platform that is meant for planning and execution activation of all addressable media channels and currently used across digital and traditional media channels. We are looking to bring it to Canada in the very short term and are really focused on keeping it an omnichannel audience and insights tool and activation tool that can connect with activation platforms like programmatic, social, and more traditional channels like TV. It's meant to drive both insights, create models, and identify audiences for our clients' campaign, also allowing us to leverage clients' first-party data as well as our Horizon data universe."
So recently built from scratch, Blu. is cookie-proof, Kivi explains, and is designed to integrate and onboard client data in a fully-compliant, secure fashion from a privacy standpoint. His plan is to hire three to four new people to further support the initiative sometime in Q3 and Q4.
Bergeron adds, "From my past experience I've been interested in new addressable channels like audio, podcasts, and addressable television, some of the new gaming opportunities, programmatic OOH and some of the more traditional channels that are becoming addressable in Canada. We want to establish our expertise and really grow our capabilities and help our clients embrace that space as the capabilities develop in our market."