TheScore's record revenue dinged by spending on growth
The media and sports wagering organization continues to invest heavily in expansion, offsetting continued record-setting revenue.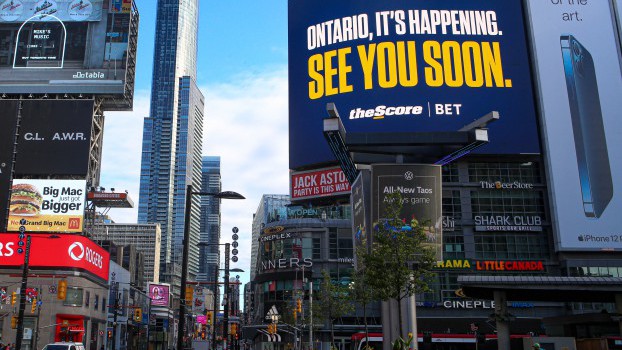 On the heels of a major milestone in Canada with the passing of Bill C-218, legalizing single-event sports betting in the country, the future looks bright for theScore in Canada and the U.S., but its record Q3 results were dragged down slightly by investments made to make its goals a reality.
In March, the media and sports wagering organization completed its U.S. initial public offering and listing on the NASDAQ Global Select Market in March 2021 – raising gross proceeds of US$186.3 million – and theScore reports record third quarter media revenue of $8.9 million, up 270% year-over-year, and 5% higher than pre-pandemic numbers in 2019.
This follows other record revenue runs, with Q1 media revenue of $10.6 million, and $8 million in Q2, an increase of 17% year-over-year. The company also reported significant gains in gaming handle for the third quarter – $73.0 million on theScore Bet, including $30.8 million wagered in March, representing the platform's single biggest handle month to date.
That said, EBITDA loss in Q3 was $21.1 million compared to $8.7 million for the same period last year, driven primarily by ongoing expansion of gaming operations, as well as costs and professional service fees related to the recently completed U.S. initial public offering.
Moving forward, in the Q3 results, theScore reports upcoming growth for its wagering business, with an expectation that it will at least double the number of markets it is in over the next twelve months. This doesn't include the potential for gaming expansion in Canada following the passage of Bill C-218.
"With a large and passionate Canadian user base, strong brand identity and best in class integrated media and betting platforms, we are uniquely positioned for initial and long-term success in the market," John Levy, chairman and CEO of theScore said in the statement. "Notably, there is an enormous potential market opportunity in our home province of Ontario, which is expected to be the largest regulated sports betting market in North America by population upon its expected opening later this year. We are actively working to ensure theScore Bet will be ready to launch sports betting and iGaming as soon as the Ontario market opens, subject to receipt of regulatory approval. We have also already begun amplifying our brand through activations in the province and will accelerate those efforts in the lead up to the market opening."
TheScore will also be launching a new player account management platform and promotion engine to facilitate wagering, "custom built, cutting-edge systems that will unlock additional user personalization, cross-platform integration capabilities and platform automation, which we believe will serve to further differentiate theScore Bet's best-in-class offering and drive both near and long-term growth."
From an audience perspective, theScore recorded record app engagement in Q3, with 470.2 million user sessions, up 19% versus 2019. theScore's sports content across Twitter, Facebook, Instagram and TikTok achieved an average monthly reach of approximately 172 million users, a quarterly record, and theScore's esports platforms registered 241 million total video views in Q3.