How an Amazing Race sponsorship fits with Guru's growth plans
A sizeable presence during one of season's most-watched shows is part of a broader summer strategy that includes festivals and other events.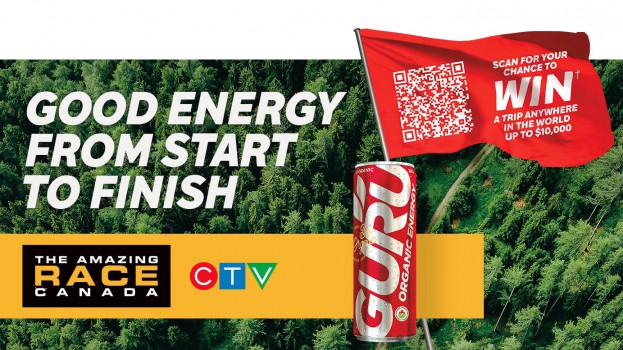 Along with a new cast of teams, The Amazing Race Canada will have seven new sponsors when returns for its eighth season on July 5.
Guru Organic Energy is one of the new sponsors and is using the visibility that the hit series brings as a springboard to launch its advertising and promotional strategy.
Guru has previously sponsored unscripted shows in its home province of Quebec, with activations based around inspiring a sense of adventure and travel among customers.
Carl Goyette, president and CEO of Guru Organic Energy, says the brand has three 360-degree campaigns scheduled this year, all of which are based around its "Good Energy for Everyday" positioning.
With the brand beginning a new push this summer – prime time for energy drink consumption – Guru is leaning on sponsorship to generate trial and grow outside of Quebec, where it is already well-established. That not only includes The Amazing Race, but also festivals, events and sampling initiatives across Canada, where 500,000 samples will be delivered throughout the season.
The campaigns intend to leverage as many touchpoints as possible. As part of its involvement in The Amazing Race Canada, Guru is the grand prize sponsor of a trip for two around the world, as well as staging a viewer contest for a trip anywhere in the world valued up to $10,000. Guru has also worked with agency Sid Lee to create a 15-second spot that will launch during the show, with the remaining media investment deployed on digital and social. Guru will also have multiple product integrations, six-second spots and static images during the program.
As the race's sign-up board partner, Guru's logo will be highly visible on the contestants' backpacks and the brand will also be providing cans of Good Energy to contestants as they sign up for their next challenge or activity.
Guru arranged the sponsorship directly with CTV. The cross-Canada sampling tour is being handled by Brand Momentum. PR for Guru is taken care of by Pelican Public Relations of Montreal.