How Subway activated its first Amazing Race sponsorship
A cross-platform buy is being extended with a pair of contests reinforcing the QSR's "Eat Fresh Refresh" brand overhaul.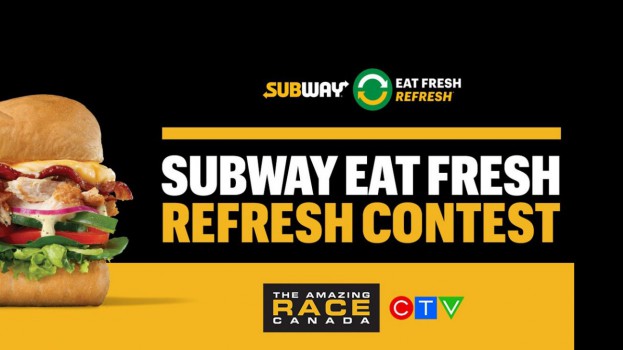 Subway Canada is a first-time sponsor of CTV's The Amazing Race Canada for season eight, and it is amplifying its sponsorship dollars with the addition of two contests – one for at-home viewers and another for its restaurant managers.
The advertising component around Subway's sponsorship is designed to engage with Canadians through a media mix that includes TV, PR, social content, digital media, CRM newsletter distribution and in-store promotion, largely behind its "Eat Fresh Refresh" brand and menu overhaul. In show, Subway Canada is also featured via in-show integrations and across The Amazing Race Canada's official social media handles with custom social content.
The "Eat Fresh Refresh" contest for at-home viewers offers the opportunity to win $5,000.00 and free Subway for a year. The only requirement is registering to win via the CTV website link, and one team on the show gets to go home with the same prize.
Part of "Eat Fresh Refresh" is a commitment to sourcing local vegetables when in season for its menu items. This idea was integrated into the July 12 episode when Lisa Crocker, a restaurant manager from Lower Sackville, Nova Scotia, won the opportunity to appear in the episode. When teams successfully completed their challenge, she got to step in to congratulate them and provide the next clue. Crocker beat out hundreds of other Subway entrants across Canada for this opportunity. From coast to coast, Subway team members were asked to share a video entering them into the race for The Amazing Race Canada. Lisa shared a TikTok-style video describing her favourite Eat Fresh Refresh sandwich and her excitement and energy for the initiative won.
Carat handles media duties for Subway in Canada, with support from DentsuMB across creative and Veritas for PR and social media.