Spotted! Climate change melts The Toronto Star's newspaper boxes
The OOH experience is the first of several that will promote different areas of the newspaper's coverage.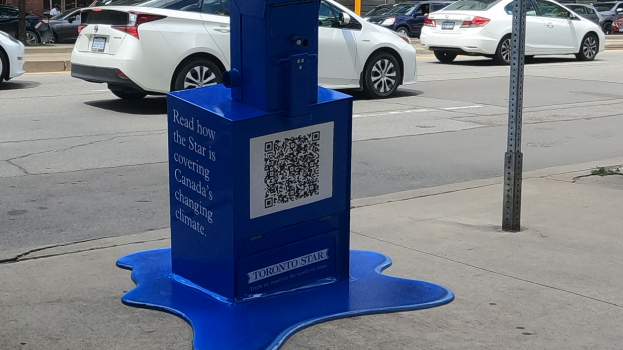 The Toronto Star's new OOH campaign features some creative paper boxes that are as can't-miss as its climate reporting.
Across Toronto's 416 and 905 areas, the paper's recognizable blue newspaper boxes appear to be melting into the ground.
On the side of the boxes is a message about Toronto Star's reporting on climate-related issues, complete with a large QR code that links to the climate reporting section on its website.
Michael Beckerman, chief client officer at Torstar, tells MiC the boxes are part of a larger campaign that went to market six weeks ago, with these boxes coming out about a week ago. He says the company plans to continue with a "parade of innovative paper boxes," of which the climate ones are just the beginning.
"We are creating a lot of buzz with the paper boxes," adds Beckerman. The broader campaign also includes outdoor, OTT, radio and video vignettes.
In addition to calling attention to an area of coverage that's highly important to readers, the new campaign is a celebration of the newspaper's 130th birthday this year, as well as the company's continued growth.
"The Toronto Star is a remarkably well-known brand. We have had tremendous growth of late with digital subscriptions and in terms of advertising growth. We recognize that we have made a significant investment in our newsroom. So we have got very compelling stories on very important themes to the city and we wanted to create greater awareness in terms of the Star as a choice for news," Beckerman explains.
He further adds that the multimedia campaign aimed to produce "big powerful bold messages that would get people to stop and think about what is their role in the city."
Torstar worked with Get Wrapped to create the newspaper boxes. For the broader campaign, the company is working with The Greater on strategy, Leo Burnett on creative and Blue Noise on production and media.
This story is part of Spotted!, a series that looks at creative ways media platforms are being used to capture an audience's attention. If you've seen something yourself out in the world, let us know by emailing news editor Loukia Papadopoulos.