Novel magazine ads: MiC's Global Tour
Karen Howe at One Advertising gives her thoughts on ways that brands in Brazil and the US are getting creative with an old medium.
The magazines featured in this week's Global Tour campaigns are functional beyond reading material and coffee table ornaments. Brands have recycled their pages to create amplifiers for an iPod, a music record and even a second-screen experience.
Here's what Karen Howe, senior VP, creative director, One Advertising had to say about this global movement in magazine repurposing.
Brazil: Coca-Cola picks up the volume
Most of us learned, at likely a young age, that when you roll up a piece of paper, and shout through the one end, the sound coming out will be amplified. Well, Coca-Cola took this age-old trick and created its own branded amplifier, made out of a magazine, on the one-year anniversary of its FM radio station. Readers of Capricho were invited to roll the pages of the teen mag to create a make-shift sound amp, which could then be used to turn up the volume on music playing from their iPod.
Howe: Clever. Really clever. When is a magazine not a magazine? When it turns into an amp for your iPod. This is another idea that again merchandises music as a cultural touchstone for its target group. However, it turns the medium on its ear. This is a low-tech big idea. I am certain it is not only relevant and engaging with the target, it elevates the use of the magazine to a new level.
Via Branding Magazine: Click here to read the international story.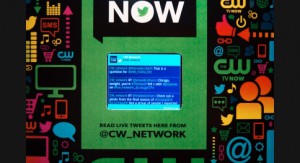 US: CW weaves multimedia into a magazine
The latest promotion from channel CW has the channel placing a small screen (shaped like a mobile phone with the ability to play video) on an insert in this week's Entertainment Weekly. On the screen, a clip featuring stars of its new show Emily Owens, M.D. will play and it will also include a Twitter feed showing recent tweets to the network's handle that talk about the show.
Howe: This is a hint of the future. It's Harry Potter's fault. The page that comes to life, literally. The idea of tweeting in real-time in terms of the launch of the show gets full kudos. This idea really works hard to allow personal bridges to be built with the brand. There is a fearlessness coupled with forward thinking here that is worthy of admiration.
Via New York Times: Click here to read the international story.
Brazil: Budweiser and Will.i.am create a nostalgic novelty
Records seem to be making a comeback with music enthusiasts these days, and recently Budweiser and artist Will.i.am joined in, having created the first vinyl magazine ad in Brazil. The brand and artist worked togther to create and place flex disc records in various magazines across the country. Those magazine ads could be cut out and placed in a record player to play Will.i.am's latest single "Great Times."
Howe: This Bud idea is a perfect example of "what's old is new again." While it is a wonderful way to make the words on the page sing (literally), it's already been done. Record companies used to market artists in the same manner. In all fairness, it was many decades ago and it is extremely likely to be fresh and new to the target group. It's an excellent example of a creative way to dimensionalize a 2D medium. As well, the use of music is utterly integral to the Bud crowd.
Via TrendHunter: Click here to read the international story.