Showcase doubles down on Helix marketing
The four week national campaign uses everything from people in hazmat suits to videogame ads to promote the new sci-fi horror series.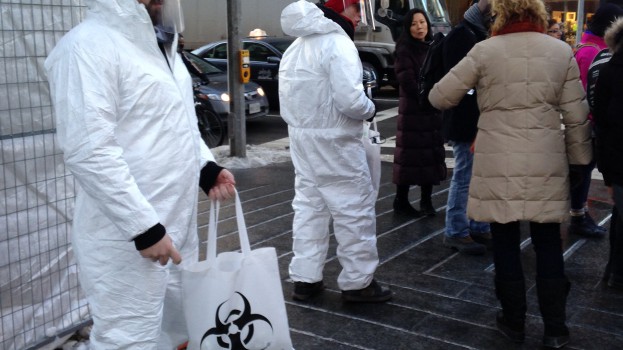 Showcase has launched a marketing campaign for the new sci-fi horror series Helix. The Shaw Media-owned specialty channel is blending TV and digital buys, ads within video games and experiential executions to target adults 25 to 54, especially existing sci-fi fans in Ontario who have been significant contributors to Shaw's ratings in this genre.
On-air promotions will run on Shaw's network of channels, with a focus on sci-fi drama and horror series such as Lost Girl and Haven on Showcase, and Almost Human, Dracula and Sleepy Hollow on Global. Radio dominations and OOH billboards in Toronto, Kitchener, London and Ottawa will target a broad audience with the taglines "The Truth Will Spread" and "Play God. Pay the Price."
Brand ambassadors in hazmat suits will hand out hand sanitizer in high traffic areas across Toronto, a tie-in with the show's titular Helix virus.
The digital-heavy campaign includes display and pre-roll ads on entertainment sites like ESPN, TMZ and Extra. Showcase has targeted a portion of its Facebook spend towards fans of Ron Moore, Battlestar Gallactica, Lost and The X-Files. "Those shows have a robust fan following socially and Helix was developed by those series creators," said a spokesperson for Shaw Media. "So there is a holistic opportunity to bring those fans into the series."
Banner ads for the series are appearing in video games including Need for Speed, Shift, Fight Night, Madden NFL, NBA Jam and NHL. This is the second time Showcase has used video game advertising for a new series, the first being for Defiance. "We have seen a large audience duplication between gamers and the sci-fi drama viewer so we've begun to utilize it to speak directly to that segment of our audience," said a spokesperson for Shaw Media.
The series premiered Friday at 10 p.m. with two back-to-back episodes with limited commercial interruption and airs every Friday in that time slot.