In a TIFF: Globe and Mail brings Hollywood to TO
The newspaper is promoting its Globe Style section with branded installations for its sponsorship of the Toronto International Film Festival.
Though not as mobile as the double-decker bus the Globe and Mail used to parade around town this time last year, the Hollywood Hills-esque sign (with the word Toronto spelled out in giant white letters) for its 2012 TIFF sponsorship is just as visible.
Launched almost two years ago, the newspaper's Globe Style section has used the yearly film fest as a podium to promote itself. Sean Humphrey, director of marketing, Globe and Mail, tells MiC the approach of having the glossy section of the pub come to life on the red carpet is the same, but with additional attention paid to its fashion, beauty, entertainment and home décor content through live wall projections.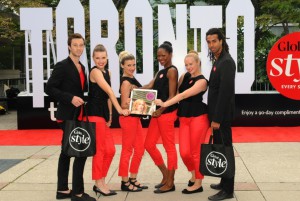 Gaggi Media was involved in the planning of the projection locations, which began at the start of the festival and end tonight. "TIFF is the premiere arts event of Toronto, and it's also about style. [So] we took an iconic Hollywood visual and localized it to celebrate Toronto," he says of the large sign that can be found at David Pecaut Square where other brands have been found activating this year.
This year's stunt was orchestrated by Free for All Marketing, with design by Naked Creative and projections implemented by Media Merchants. In addition to the street activity, the Globe and Mail has also been covering the fest with content uploaded to the publication's TIFF online hub.