OgilvyOne UK's Rory Sutherland to keynote Ad Week 2013
The week-long advertising and marketing event has rebranded and will feature an expanded speaker series, with presentations from Yahoo! Canada and Google.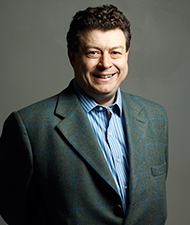 Advertising and Marketing Week, the flagship event of The Institute of Communication Agencies (ICA), is back for a fifth year with a fresh new look and name.
With help from Publicis, the Toronto event has rebranded itself for 2013, launching a new website and dubbing itself FFWD: Advertising and Marketing Week, to fit with its ever-growing mandate of looking to the future.
The week-long affair, held Jan. 28 to Feb. 1 at Arcadian Court in Toronto, will feature keynote speaker Rory Sutherland (pictured), executive creative director and vice-chair, OgilvyOne, UK, in addition to the usual lineup of films, discussions, workshops and awards.
Intended as a forum to highlight new ideas and industry discussions, FFWD 2013 will also feature a diverse slate of new events, including an expanded speaker series with presentations from Yahoo! Canada, LinkedIn Marketing Solutions, the Toronto Star, Google, and MDC Partners.
Meanwhile, popular events such as the CASSIES awards and the Globe & Mail Cannes Reel Screening will also make their return. Next Generation Day, which offers students and up-and-comers an inside look at "a day in the life" of one of the participating agencies is also back for a fifth year.
More events and new features are still to be announced as the event gets closer.
Tickets went on sale Tuesday and are available at the FFWD 2013 website.