Just Eat delivers a new campaign
Produced by Bell Media, the campaign kicked off with one-night only spots that aired during eTalk and just before The Big Bang Theory.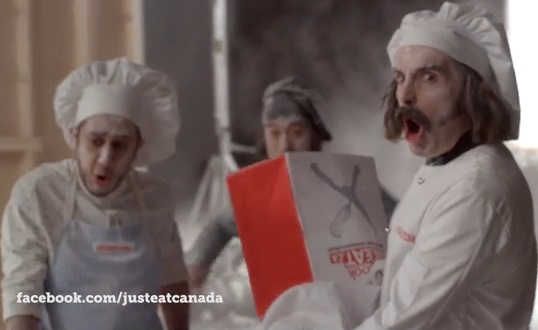 Food ordering website Justeat.ca  is encouraging Canadians to abandon their cookware and homemade recipes in favour of takeout, with a new campaign that pokes fun at celebrity chefs.
The "Eat Talk" campaign, with media by Havas and creative by TraffikGroup, was produced by Bell Media and kicked off with two "one-night only" ads Thursday evening on CTV. The first 60-second spot ran during eTalk, briefly rebranding the show as "Eat Talk," and was followed by a 30-second spot that aired just before the new episode of The Big Bang Theory at 8 p.m.
The campaign creative follows Just Eat's cast of characters, who kidnap fictional celebrity chef Gordon Oliver to prevent him from destroying the world with bad recipes like buffalo wing milkshakes and octopus salad.
Outside of the one-night buy on CTV, ads that recap the storyline will continue to run on other Bell Media properties, online at the campaign microsite, and on Facebook. The campaign will also be supported by digital ads on YouTube and comedy sites such as Funnyordie.com and Collegehumor.com.
Luke Sheehan, marketing director, Justeat.ca, tells MiC that buys during eTalk and just before The Big Bang Theory were perfect vehicles to reach the brand's core demo of adults aged 18 to 34. He adds that leveraging one of the top TV nights also offered the brand an opportunity to showcase its lighthearted personality by aligning it with shows that also focus on entertainment and comedy.
Sheehan says this is the first time that Just Eat has launched a campaign of this scale, noting that a one-night only buy was a risky but essential part of the brand's strategy to set itself apart from similar services.
Laird White, director, brand partnerships, Bell Media, adds that Just Eat's campaign offered eTalk a new way to integrate a brand into the show.
The campaign runs until the end of March.