Microsoft introduces the new Office
The tech company is promoting its Office 365 software suite with a homepage takeover that leverages the New York Times' new Vortex display unit.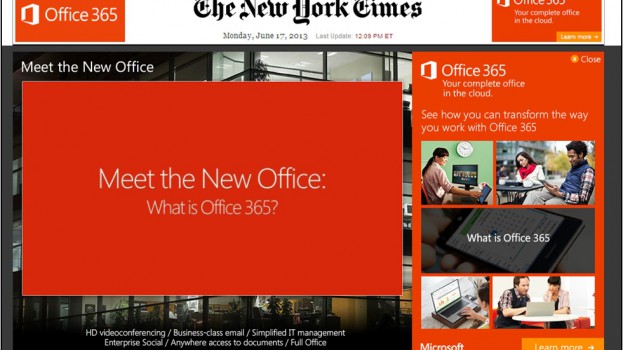 Microsoft Canada is promoting Office 365, its latest business software suite offering, with a new digital-only campaign that features a homepage takeover of NYtimes.com.
Working with media agency Starcom MediaVest Group, creative agency Wunderman and Olive Media, which represents the New York Times' digital ad inventory in Canada, the campaign leverages the New York Times' Vortex ad unit.
The Vortex is a new rich media display platform that when activated separates a page's content into strips that are whirled off the page. The content is then replaced with an interface that can house multiple videos, images, links or other content. Microsoft's execution features a series of interactive videos that offer demonstrations of Office 365 and its features.
The campaign also includes traditional display and pre-roll buys on sites like Lapresse.ca and CNNmoney.com.
Kristie Painting, general manager and VP, sales and marketing, Olive Media, tells MiC that this marks the first time a brand has leveraged the Vortex ad unit.
She says Microsoft chose to use the Vortex because it offered an opportunity to create a more immersive microsite experience within the New York Times' homepage and to engage viewers with multiple pieces of content that they can choose to interact with.
The homepage takeover on NYtimes.com will run for one week.