Rogers Media launches Next Issue Canada
Ken Whyte has been appointed president of the new Netflix-like magazine subscription service, which will launch on Oct. 15.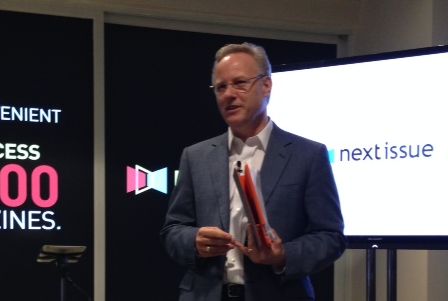 Rogers Media has announced it is partnering with Next Issue Media to launch Next Issue Canada, an all-you-can-read subscription digital magazine service.
Launching Oct. 15, Next Issue Canada is the result of an exclusive partnership with Next Issue Media, with Rogers wireless and cable customers getting an exclusive free two-month trial on the service. It launches to all Canadians on Dec. 15 and will cost $9.99 per month for access to all monthly magazines on the service and $14.99 to also include all weekly titles. The first month of service will be free of charge. With either subscription model all digitized back issues of the magazines are included.
Rogers Media publications, like Flare, Maclean's and Canadian Business will be available on the service, as will titles in the existing Next Issue venture, originally formed in 2009 by Condé Nast, Hearst, Meredith, News Corp. and Time Inc.
Ken Whyte, who up until today has worked as the president of Rogers Publishing and Custom Content has been named president of Next Issue Canada. A successor for Whyte as president of Rogers Publishing and Custom Content at the company  has not yet been named.
"This is more than just your average media venture," said Whyte at the launch event. "Consumers want to see our magazines and talent stand up against the best in the world."
The deal Rogers made to launch Next Issue Canada is worth eight figures, a sum Whyte says is "the biggest bet any company has made in the development of the publishing industry."
Initially Next Issue Canada will be available in English, with the French app to launch in 2014.
"This would be like Netflix having the best of everything," said Keith Pelley, president of Rogers Media.