Rogers adds sponsors, conference to Bills in Toronto
The executive director of the game, Greg Albrecht, tells MiC about the expansion of this year's event.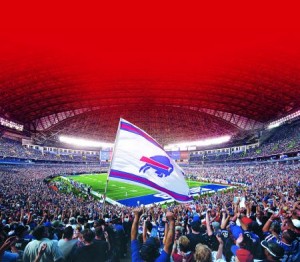 The Buffalo Bills are back at the Rogers Centre on Dec. 1, playing the Atlanta Falcons in the first game of Rogers Media's extended deal with the NFL team, which will see them play in Toronto once a year until 2017.
Greg Albrecht, executive director, Bills in Toronto at Rogers, tells MiC the media co is turning the game into a weekend-long event this year, kicking it off with a takeover of Yonge-Dundas Square on Saturday Nov. 30 with fitness-focused events like football punt, pass and kick and street curling as part of Sports Day in Canada.
On game day at Yonge-Dundas Square, the media co is hosting Omni Football 101 Day, with football-themed events and personalities from the Rogers Media channel promoting the sport to a wider than usual target demographic of adults aged 25 to 54, with about a 60/40 male to female split.
"We are trying to expand the footprint and awareness of the NFL in Canada," he says. "Trying to get people to have a football in their hand rather than watch it on TV with the event on Sunday."
Sunday also plays host to the pre-game street party on Front St., with Sleeman as the official beer sponsor of the licensed event that also features food trucks like Gourmet Gringos and The Dirty South and bands entertaining fans prior to start time.
During the game sponsor Barbados Tourism is helping fans cheer at appropriate times by giving away one trip a quarter to the "craziest fan" cheering when the Bills are on defense, says Albrecht.
Also on as sponsors this year are the Toronto Sun, Universal, New Era, Pizza Pizza, MBNA and Rogers brands including Sportsnet, The Shopping Channel and Next Issue. Albrecht confirms there are still spots available for brands to get involved as sponsors.
Closing out the weekend and also new this year is the Cross Border Huddle and Business Symposium, which aims to target business people who engage in cross-border trade with a conference on Monday at Real Sports in Toronto. People who sign on as attending the symposium are also given access to a suite with other attendees for networking during the game, says Albrecht.