How Rogers' ad model will recoup its $5.2B bid for NHL rights in Canada
Rogers Media president Keith Pelley on how the media co will make money off its NHL hockey deal.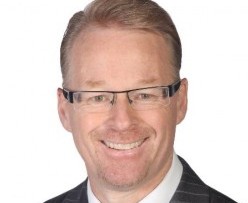 Keith Pelley remembers 2010 when Canada's Olympic Broadcast Media Consortium, which he led, fielded endless questions about whether it could sell enough advertising to profit from its $153-million bid for the right to carry the Winter Games in Vancouver that year and the 2012 Summer Games in London.
Now those questions have returned as he and other top Rogers Communications execs were asked Tuesday whether they can sell enough high-priced NHL advertising to recoup a successful $5.2 billion bid for the national pro hockey league rights over 12 years.
And to answer those calls this time around, Pelley, president of Rogers Media, on Tuesday summoned the advertising model for the Olympic Broadcast Media Consortium, where multiple networks and integrated sponsors helped sell advertising packages the best way possible to reach revenue projections.
"I had the privilege of being a part of what was a really special consortium in Vancouver … with the likes of CTV, TSN, OMNI, Sportsnet, APTN, and we had a very successful sales model that worked," Pelley said Tuesday.
"We will follow that. We will spend a lot of time learning what the partners' objectives are, and move into a defined revenue model, one that really works and allows the partners to activate their brands in the best way possible," he added.
Pelley predicted the NHL rights deal will prove profitable for Rogers as it looks to grow the NHL in Canada, and so the advertising pie.
"When you break it down from an ROI perspective, from an advertising perspective, and other ancillary revenue streams, the model is positive from year one," he said.
Pelley added the revenue model for the NHL rights deal was worked out by the same revenue planners from the 2010 and 2012 Olympic Games.
"So we had a little experience and a leg-up on the competition," he insisted.
Key to forging that revenue model for the NHL rights will be Rogers resurrecting the multi-partner, multi-platform Olympics consortium model, which uses compelling NHL stars, team storylines and convenient online access to NHL games to drive and grow viewership for hockey in Canada.
"Hockey brings us closer together as a family. This is our religion," Rogers Communications president and CEO Nadir Mohamed said Tuesday as he explained the reach of hockey in Canada's psyche.
Rogers will aim to make its NHL content widely available, either on more than one TV channels as regionalization of NHL broadcasts and local blackouts ends, or by allowing Canadians to download content to their phones and tablets.
"We want to bring that experience to hockey fans wherever they are. We want to bring NHL hockey fans the best and most exciting hockey experience around," Mohamed said.
So while the CBC will retain Hockey Night in Canada telecasts on Saturday night, the iconic brand will expand to also appear on City and Sportsnet channels.
What's more, Rogers, by paying for and taking the risk on the CBC's Hockey Night in Canada telecasts, will control the brand.
For CBC president Hubert Lacroix, that was the price to be paid for being able to continue airing Hockey Night in Canada, including the Stanley Cup championship round, while not incurring the cost of doing so by paying for broadcast rights.
"Starting next year, Rogers will assume all editorial control (all editorial decisions with respect to the content, on-air talent and the creative direction of HNIC — we have the right to be consulted and there is a commitment to excellence) under the new agreement," Lacroix said Tuesday in an internal memo to CBC staff.
Rogers will retain the expertise of the CBC's Hockey Night in Canada staff for Saturday night broadcasts.
But with all Hockey Night in Canada revenues going to Rogers, and the CBC only being able to promote its own shows during Saturday night telecasts, job losses at the pubcaster are inevitable.
"This may not be the ideal scenario but, it is the right outcome for Canadian hockey fans and is an acceptable adaptation to the role of the public broadcaster in the modern world of professional sports rights," Lacroix said."
Pelley said Rogers did not feel compelled by the NHL to do the  sub-licensing deals with the CBC and TVA, as the overall national rights deal was negotiated and signed directly with the pro hockey league. But Rogers hammered out the side deals with the other broadcasters because not only are both seen as essential to growing the audience for the NHL in Canada (and as such, ad revenue) but because Hockey Night in Canada is such an iconic brand.
"This is a great day for the fans. There will be more games and more choice. Two conventional networks in City and the CBC carrying games on Hockey Night in Canada," he said of more games and wider distribution for hockey in the Canadian market going forward.
From Playback Daily