NHL's Winter Classic a power play for brands, fans
The event hosted the largest-ever audience for an outdoor NHL game, and drew sponsorship plays from companies including Scotiabank, Honda and MillerCoors.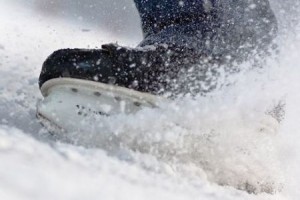 The Toronto Maple Leafs may have beat the Detroit Red Wings Wednesday at a snowy Winter Classic on the CBC and NBC Sports stateside.
But the NHL has succeeded in turning outdoor TV hockey into a massive sponsorship and merchandising event that underlines strong revenue growth for the pro league in recent years.
"It's a great sponsorship activation platform for those sponsors," said NHL COO John Collins from Ann Arbor, Michigan.
The NHL's annual New Year's Day event had Bridgestone as its title sponsor, with added sponsorship partners in Geico – which brought the Caveman to Michigan Stadium to help shovel snow –  Honda, MillerCoors and Verizon.
The ad rates for the Winter Classic broadcast on CBC were $49,000 for a 30-second spot, which is on par with Hockey Night in Canada ad costs. Canadian ratings for the game were not available as of press time. In the US, NBC Sports earned a 2.9 overnight rating for the Winter Classic, tying it with the 2.9 rating for the 2009 Winter Classic game between the Detroit Red Wings and the Chicago Blackhawks.
Live attendance at the game was pegged at 110,000 fans.
The Leafs-Red Wings match-up Wednesday capped off two weeks of activation that included the SiriusXM Hockeytown Winter Festival in Detroit.
SiriusXM NHL Network radio also broadcast from the Winter Classic and the Detroit festival.
Event-level marketers included Anco, Kimberly-Clark, Upper Deck and Scotiabank. Anco gave "NHL Winter Classic Special" offers for its automotive products and Upper Deck threw in some free hockey cards as part of the seat cushion handed out to fans attending the NHL game Wednesday. Scotiabank, which is also a title sponsor for the Scotiabank Hockey Day in Canada annual event, hosted a branded warming hut in the Big House for free hot beverages and phone charges.
Many of the big-name partners have been with the NHL since the league began to raise its profile in 2005 around signature events like the Bridgestone Winter Classic and the Coors-Light stadium series, and will include events in Los Angeles and New York this season.
Geico, Honda, MillerCoors and Verizon had in-ice logos at Wednesday's Winter Classic, which added another duty to the NHL's rink and ice-making crews as they worked in Ann Arbor to lay down a shiny surface in wintry conditions for a competitive game.
Canadian marketers are also expected to become key sponsors when the NHL possibly brings its Winter Classic format for the first time to Canada, likely to Winnipeg or Toronto initially, as has been rumoured.
With files from Val Maloney
From Playback Daily