BCON bits
From Red Bull's subtle doc to the pros and cons of branded content with talent, here are some takeaways from yesterday's BCON Expo.
By Jennifer Horn, Tanya Kostiw and Val Maloney
Branded content was front and centre yesterday at playback and strategy's BCON Expo in Toronto, where industry pundits shared various insights and experiences with the crowd.
Here are a few key takeaways from the conference:
Red Bull takes a subtle approach
The words "brand-inspired" and "restraint" were lovingly tossed around the room by some of the speakers at the BCON Expo. And it appears Red Bull and MTV are living up to this advice of not shackling a property with overt branding, having created a documentary-style show called McMorris & McMorris, which doesn't use a heavy-handed approach to deliver the drink brand, and that was showcased during a panel session at the conference.
Following brothers Mark McMorris and Craig McMorris, professional snowboarders out in flat Saskatchewan who compete across the world (the youngest, Mark, just received a Bronze medal at the Sochi Olympics), the series is produced by Buck Productions and housed on MTV and MTV.ca, with a deal for a second season currently underway.
Subtle nods to the brand are made in the show, from a Red Bull logo on one of the snowboarder's hats to a "Red Bull Team Member" talking to the crew about the boys' performance. To the team's recollection, there isn't a single can of Red Bull in the show. From the very get-go, the reins were given to Buck Productions, said Jason Ford, supervising producer at Red Bull Media House. "We let the creatives do what they do best."
Some clients will say they understand that content must be the goal for a show to be a success, but most actually don't, said Jim Kiriakakis, head of television, Buck Productions. What they really want is a commercial, he said. There needs to be an "exercise in trust and restraint" – trust the content will be entertaining and effective without heavy-handed branding, and restraint from the brand to let go and not control every element.
"You need to [also] trust the characters to develop a natural content narrative," added Brook Peters, director of programming, acquisitions and sales at Bell Media, noting the millennial audience which the show targets can "smell [inauthenticity] a mile away."
Shaw Media's branded content play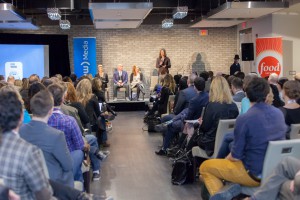 When it comes to content marketing, from product integration (demonstrating GE appliances in Top Chef Canada) to branded entertainment (creating a wholly Tim Horton's-owned episode of Donut Showdown), Shaw Media believes it's well-versed enough in the arena to take on a new challenge: weaving multiple brand stories across multiple platforms for a single property.
Shaw Media is currently in talks with HGTV in the U.S. to adapt its Dream Home series for Canada and attach it to a slew of brand partners, revealed Ann-Marie Spurr, director of Shaw's Marketing Ventures Group, at its upfront session. The show, she said, will be the first to bring advertisers together, from appliance and furniture to paint and building supplies, to build their brand narratives across various platforms, from TV to events to web to social, with the series property at the centre of it all.
For example, the show (which has been running in the U.S. for the past 17 years and follows the construction of a luxurious dream house for a final episode sweepstakes) could include behind-the-scenes specials, in-store on-pack promotions, a how-to web series, design-a-room social content and events such as house tours or themed rooms, which various advertisers can attach themselves to.
This model will also be adopted for a soon-to-be-launched digitally-driven property called Food Network's Great Canadian Cookbook, which will set out to inspire Canadians around cooking and recipes, living entirely online as a robust regional content catalogue for the Food Network community, said Emily Morgan, senior director, original lifestyle content at Shaw Media.
It won't be a flash in the pan initiative – the long-term UGC property will have national scope, with teams travelling across the country to curate recipes from different regions and directly from Canadians. Advertisers will not only be given "a page in the book" with a sponsored logo on a specific recipe, but the opportunity to co-write the platform's story with the Shaw Media team, added Spurr.
And lastly, on the heels of the Food Network's Donut Showdown series, where pro bakers compete to create the ultimate circular pastry, Shaw Media plans to launch a pilot for a third property announced at the conference, called the Ultimate Food Showdown. The series will go beyond donuts and showcase other foods, like pizza, in each episode and connect relevant brands (for example, Pizza Pizza) to that specific food.
Branded content and talent
Branded entertainment and content can be difficult because it is new, Chris Bruss, VP of branded content for Funny or Die and the president of its commercial production company Gifted Youth, told the audience during his afternoon session, but communication plus setting and managing expectations of the parties involved is key to the process. During "The Artist and the Brand: How Creator-Powered Content is shaping Brand Evolution," Bruss discussed pros and cons of working with talent on these projects, such as the potential to reach the talent's fan base (pro) and the addition of a third party with a strong creative point of view (con). Collaborating with talent can be successful, but a celebrity is not necessarily the solution to all your problems, he added.
Good content and a funny idea are important, and a humorous video can see just as much success without talent, said Bruss. Funny or Die's offering has grown to include web series, shows, live events, social and TV, and the market is now seeking 360-degree opportunities featuring more elements, he explained.
Experience is key
During "The Brand as the Main Event: How to Compete on the Global Content Stage," Sid Lee chairman Bertrand Cesvet spoke to the importance of actual experiences and analogue moments, and how this can achieve an element of intensity.
As the industry has rushed to digital and everyone wants consumers to "like" their content on social media, this is actually a low form of engagement, he said. Cesvet suggested the sponsorship model needs to be changed and advocated for creating owned-entertainment properties. In considering experiential, the heightened intensity affects the reach, he said. He discussed a reverse bow-tie model, whereby amplification should be considered first, prior to designing the experience.
The numbers behind content marketing
Robert Rose, chief strategist at the Content Marketing Institute said that 60% of CMOs report using analytics solely for driving interactions with consumers and not creating relationships with them. He added that in our current "switching economy" engaging consumers is a must have not a nice to have. Using content rather than other customer acquisition methods can cost 1.2 times more, but the customer will spend 2X more money than one acquired through traditional advertising, and stay with the brand 5x longer, and are 2x more likely to share their experience.

Building the future
When asked for his take on the day by Free Agency's Chris Unwin during the closing keynote, Vice's chief strategy officer Spencer Baim said the Canadian branded content landscape is obviously one that comes with a unique set of challenges versus doing similar work in the U.S. because of the size of the market. But he urged media companies to note the disparity between the time consumers spend online and the amount of ad dollars going to the space and take some risks.
"The shift towards branded content is happening and it isn't going away," he said. "Be brave and take risks, make your communications as valuable as your service. Let the advertising you need fall out of your content."
Photo taken at BCON Expo (Nelvin Cuvin – Detonategroup): Ann-Marie Spurr, director of Shaw's MarketingVentures Group