Ford to woo Leafs Nation
The car company's expanded deal with MLSE includes a new ticket giveaway program and renaming rights for Maple Leaf Square.
The Ford Motor Company of Canada is aiming to woo fans of the Toronto Maple Leafs through an expanded deal with Maple Leaf Sports and Entertainment (MLSE) as the official automotive sponsor of the hockey team, as well as the Toronto Raptors, that includes a ticket giveaway program for each of the team's home games.
Providing greater access to games for fans is the aim of the new program, which will see the car co provide 200 free tickets to the public for each Leafs home game at the Air Canada Centre. That deal continues for the duration of Ford's five-year partnership with MLSE. Fans can win tickets by becoming a member of Leaf Nation online and engaging with @thefordfanatic on Twitter and Facebook and through in-person events. Winners of the contest will be given seats in the newly designed Ford Fan Deck at the Air Canada Centre. The program was arranged with Ford's agency group Blue Hive.
"I have been in this business a long time and the biggest problem with this team is ticket availability," David Hopkinson, CCO at MLSE, tells MiC. "They are not cheap [and] they are scarce. The deal aims to get tickets into the hands of fans that wouldn't normally get into the building."
In addition to the ticket giveaway, the deal includes renaming rights for the Maple Leaf Square area outside of the Air Canada Centre. The area, which has been made famous by the crowds of fans that have gathered there in recent years during the playoff runs of the Leafs and Toronto Raptors will be renamed "Ford Fan Zone at Maple Leaf Square." (There was talk of it being renamed "Ford Square" but there was backlash and confusion around whether it was associated with the family of Rob and Doug Ford.)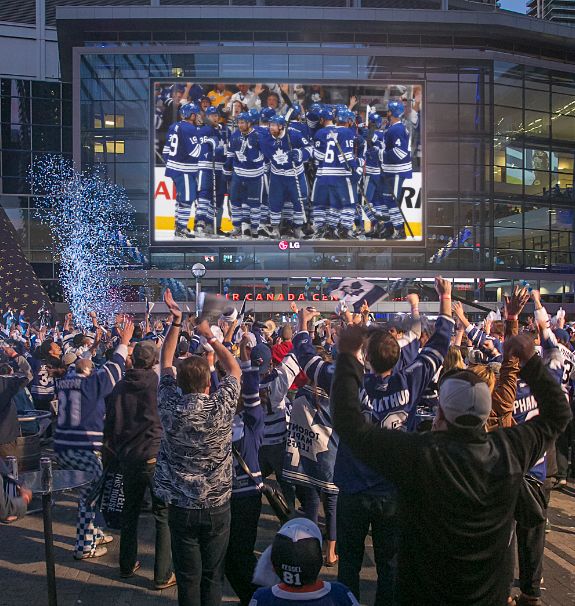 Hopkins says the Square will play host to events and contests to support the partnership and engage with fans.
Over the next two weeks Ford will be touring Southern Ontario with the Toronto Maple Leafs game crew to connect with fans at local hockey games at the "The Leaf Drop." Hopkins says the aim of the tour is to build anticipation for the Leafs' Oct. 8 home opener, with giveaways including 50 pairs of tickets available at each tour stop. One fan at each stop will also win the Ford Fans Go Further grand prize, giving them transportation, tickets and swag for the Leafs' first home game next Wednesday. The winners of that prize will also compete to win a Ford vehicle on Oct. 8.
Hopkins says details of Ford's sponsorship with the Toronto Raptors will be unveiled closer to the start of its season later in October.
Images courtesy of MLSE