Spotted! Mark's steps into transit
The retailer is aiming to raise awareness around its footwear lines by literally putting its shoes on display.
To show city dwellers it has more to offer than work boots, Mark's is putting its footwear on display in transit shelters around Toronto as part of its new "For All Walks" campaign.
Starting last week at eight transit shelters across Toronto's downtown, Mark's installed a plexiglass case that recreates the shoe wall in the store's retail locations. Each location is centred around a specific theme, such as "outdoor hiking," "rainy weather," "street casual" and "night on the town." The back panel of each shelter includes a holographic representation of the conditions.
Touche! PHD did the media buy with vendor Astral Out-of-Home and Sid Lee on creative.
Having an OOH element to a campaign isn't new for Mark's, but doing a piece that goes beyond a poster is.
"We thought it was really important for the customer to see and feel the brand," Sabrina Lalonde, associate VP of marketing channels with Mark's, tells MiC. "For us, the objective was to showcase assortment, since it's the first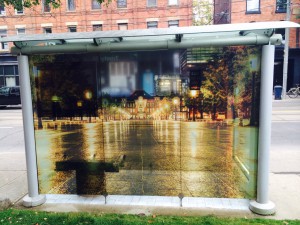 season we've launched 15 footwear brands at once."
The bulk of the "For All Walks" campaign is on the digital side, which includes banner displays, search retargeting and a digital guide on the Mark's website.
"[Customers] know that 'Mark's Knows Jeans,' they don't know that we sell casual footwear," Lalonde says, referring to the store's summer campaign that wrapped up this week. "Out-of-home was the fun interactive piece, the digital is more around each brand on its own and letting people know which ones we carry. We know it's about buying the brand first and the retailer second, so we're getting out there and letting people know that we do offer casual footwear."
By putting these displays in Toronto's transit shelters, Lalonde says that Mark's hopes to reach all segments within it's 30- to 49-year-old male target.