Apple News launch signals new era of content-based partnerships
The app will rely on human curators and algorithms to collaborate in curating aggregated news.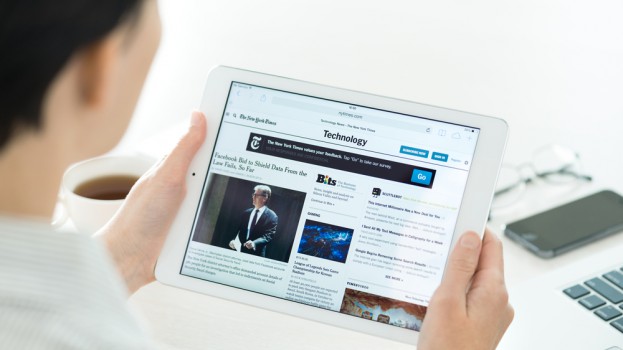 Should the launch of Apple's shiny new product send chills down publishers' spines?
Likely, yes, when it comes from a company well-entrenched in consumers pockets and providing an aggregated, curated service designed to pull readers away from traditional media sites towards a more customized reading experience.
Apple has announced that it will be the biggest kid on the news block, replacing its Apple Newsstand app with Apple News. The new app, which will launch with the company's iOS 9, will feature content from a select group of publishers, hosted on its own news platform. Featuring enticing, rich typography, the app will allow users to customize their reading experience by filtering news based on interest.
It will launch with a number of high-profile publishing partners, including the New York Times, which will provide Apple News readers with 30 exclusive new articles per month, Conde Nast, CNN and Time Inc.
Moreover, as the digital world snuggles up closer to algorithms and automated processes, and more companies are giving journalists the pink slip, Apple surprised analysts by going in an opposite direction and hiring experienced journalists to play the role of human news curators.
It's not clear, yet, what the specific opportunities for advertisers are but the advent of a well-designed and curated news platform could significantly add to current news-based mobile inventory, says Will Pate, digital director of M2. "There is a shortage of premium mobile inventory as publishers have struggled to develop compelling mobile experiences. The true value proposition is aggregation [of news content] and a really well-designed experience that should make the news more mobile." 
The launch of Apple News is welcome news for content-heavy publishers struggling to deliver product to properly targeted audiences, says Shelly Palmer, MD of the digital media group at Landmark Ventures in New York. "You have to fish where the fish are…the end-to-end ecosystem is a gigantic advantage. This is very attractive to a publisher. All they need to do is to produce content."
Publishers can sell their own ads on Apple News and keep 100% of ad revenue or enter into a 70-30% sharing model with Apple. Publishers can continue to sell subscriptions off their own sites.
Publishers should look at the potential disruptor as a chance to innovate, says Pate. "There are unknowns and a there is a certain amount of trepidation but publishers have to see how can they take advantage of the opportunities." New content creators on Apple News and Facebook Instant Articles will have an early-mover advantage, he adds, leaving those who stand on the sidelines behind.
However, new platforms that do all the revenue and distribution work for publishers may not be good tidings for those media companies who have invested heavily in developing their own mobile platforms such as the Toronto Star's tablet edition, the Globe's newly revamped tablet and mobile apps and La Presse's successful La Presse+ tablet app.
Apple's news follows Facebook's announcement last month about the launch of Instant Articles, which as the name suggests, will open up in users' feeds appearing as native content. As with Apple News, Instant Articles rolled out its new product with a select number of partners, among them the New York Times, BuzzFeed and National Geographic. Apple News launches with a similar combination of news sources targeting multiple demographics and interests. Given its size and its platform reach, the company will reach more users than just iPhone users, says Palmer.  "…if Apple isn't reaching a few million people with Android, it will probably make an Android app for that."
While the development of a new platform for serving media content isn't new, Apple's decision to hire new human teams to help curate it, is. Where many media companies have been paring down their content teams to develop bigger design and web development teams, Apple's announcement of new hires signals a recognition that human inputs in the curatorial process of news distribution is valuable, and that algorithms can work in partnership with them.
Image courtesy of Shutterstock