Revving up for VR executions
As VR enters the mainstream, media agencies are examining how the new tech can work for clients.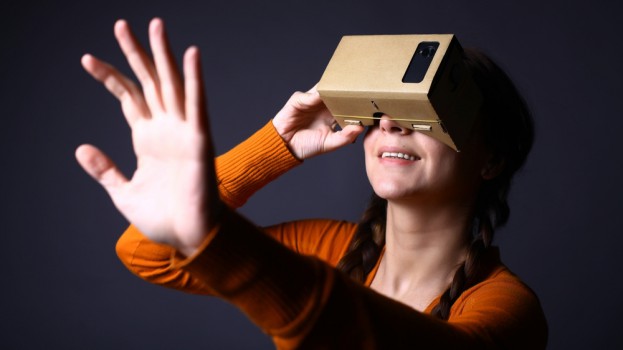 Several months ago three teams of intrepid, young explorers at Zenith Optimedia set out to discover more about virtual reality, mobile gaming and digital outdoor media. Their chief, Veronica Holmes, who heads the company's digital side, tasked them with researching and presenting potential plays in each space under a new in-house initiative called Team Product Knowledge.
The team assigned with understanding executions around VR – which included Alex Hagoriles, Josh Keshen and Ana Palacios – came back with a presentation that convinced their boss that something good this way comes.
In April, Holmes effectively created a VR team with Hagoriles, Keshen and Palacios leading the initiative to explore the possibility of VR brand activations as the technology becomes more accessible.
"I think what interests us is the powerful experience people have when they are watching this content," says Holmes. "The fact that it is relatively easy to access with [Google] Cardboard suggests to me that it is something that will be used."
The use of virtual reality in media executions is dependent on a number of fast-changing factors: the products' physical size (it is still quite clunky) and cost, the rate of consumer adoption and the creative production costs.
The first consumer VR products are already in-market or about to be. Google Cardboard, a simple VR viewer for mobile phones, retails for just over $10 on Amazon.ca and Oculus Rift, the VR viewer most closely associated with the genre, will soon be releasing its consumer product to the mass market. (An Oculus Rift development kit, DK2, has been available for $350 for awhile.)
Already the platform is drawing content partners. Montreal-based production studio Felix & Paul has just inked a multi-project deal with Oculus to produce fiction and non-fiction content exclusively for the VR platform. And in January this year Toronto-based digital agency, Secret Location signed a deal to collaborate with U.S. and U.K. based production company, VRSE to enhance its 360 offerings.
Early in 2014, Facebook purchased Oculus VR, creator of the Oculus Rift, making its VR subsidiary. Facebook has been quiet about its plans for the tech but adoption rates could dramatically change if Facebook adopted VR in some way into the user experience on its social media network.
"Oculus has the chance to create the most social platform ever, and change the way we work, play and communicate," Facebook founder Mark Zuckerberg said on announcing the acquisition.
On the content side, less expensive technology is increasingly available to shoot in 360 and platforms like YouTube can now support 360 video capability. For film marketers this is a ready resource and executions are already online, like this one for the film, Warcraft: Skies of Azeroth.
Also, recently Cineplex launched a VR execution with Toronto-based digital agency Secret Location the premiere of the film Insidious 3, for which Cineplex visitors could put on a headset and be immersed in a hair-raising scene in the action-filled film.
A VR-ready demographic is already teed up, says Andrew Young, account manager at PHD: high-school and university students who are are already mobile-only.
Holmes takes an even broader view, quoting a Catalyst report that shows that overall smartphone penetration in Canada grew 13% from last year to 68% in 2015, meaning the landscape for wider virtual immersion executions exists.
Mobile companies are also taking notice. Samsung, for example, is already sellng its Gear VR viewer as an add-on for mobile buyers.
In media agency backrooms, teams are playing with the technology's potential for brands. Zenith Optimedia may be the lone warrior with a dedicated VR team but the tech is very much at the fore of conversations at OMD and PHD as well.
"VR touches many different aspects of our business," says Nick Barbuto, who heads OMD's Ignition Factory. "As a by-product, we all have a need and desire to understand it – no matter which OMD division we may be talking about." In addition to planning several VR executions, OMD has entered into a VR partnership with production company Badpixel.
Will 2016 be the year of virtual reality? Both Holmes and Barbuto think so, while Young is less bullish. It will be at least three or four years before it gets picked up by brands, he says.
"It's an incredible opportunity for brands," says Young. "But we haven't yet seen major uptake in consumption and adoption from our vantage point."
Despite the tech's still-nascent status with consumers, PHD, OMD and Zenith Optimedia clients are being presented with proposals for VR activations.
Much of the three media groups' VR plans are hush-hush, awaiting client approval. One challenge they face is a shortage of available case studies to convince clients wary of high production costs that VR executions won't fail.
At OMD, Barbuto and his team are working on several potential executions. They had wanted a client to be the first to launch a spherical video on YouTube but the launch never happened because of production scheduling challenges, and Red Bull beat them to it.
Since the VR team's timely presentation, Holmes has immersed herself in a variety of VR experiences. See Holmes' current two favourites: a 360 film, the Polar Sea Rift and North Face Climb, an immersive experience joining climbers as they scale the Moab and Yosemite.
The key to accelerating the media opportunity may be to find a way for advertisers to participate in content without incurring the expense of starring in it," says Holmes. "Imagine replacing the billboards in a virtual hockey game, or doing a product placement in a short movie."
But even if brands sign on to VR campaigns, would they be be able track engagement within the VR execution?
"Motion sensors smartphone/Cardboard applications could record a head nod as an equivalent to the double click," says Holmes.
Holmes cites some other possible options. The FOVE VR headset, for instance, could use its eye-tracking capability to allow users to open up an ad based on the amount of time they spent staring at that spot. Oculus is creating the Xbox controller, and also has hand controls that could let users decide which ads they want to see.
As media players work to actualize executions in the space, they're also aware of the real challenges. Google Cardboard is not a hands-free experience. Users have to press their phone through an apparatus and hold it with one hand to experience it.
"I don't think we are quite there," says Holmes. "Right now we are really monitoring the space, getting best practices around production." Another challenge is the tech's ability to drive nausea or what is called virtual sickness in some users, although technical advancements (better video resolution and reduced delay being key) have eased some of these concerns. Unlike motion sickness, this form of nausea is said to be caused by disorientation due to a perception of motion; certain types of content is more likely to cause sickness than others. Don't do a simulated roller coaster ride in VR, warns Holmes.
None of the three have anything tangible in VR yet but Holmes believes that her team is ready to move with an execution once a brand comes on board.
Moreover, change is around the corner, according to Barbuto, "2016 will be the year VR projects start to come to life in a serious fashion as that is when the most well-known devices will be launching."