Rogers prepares for the post-season
How Rogers is planning to ride the Blue Jays success into the post-season with ad opps and sponsor activations.
It's been awhile since the Toronto Blue Jays have been playing meaningful, magic number-friendly baseball this late in September. And brands and Jays fans alike can't get enough.
Riding on the success of its best performance in two decades Jays owner Rogers Media, and the team's sponsors, are beginning to roll out post-season plans. 
The Toronto Blue Jays have been riding a high since making key trades over the summer for players like ace pitcher David Price. Ratings skyrocketed and even beat hockey records, with one mid-August game against AL East rivals the New York Yankees bringing in an average audience of 2.03 million viewers, according to Numeris numbers provided by Rogers. Tuesday night's game against the Yankees brought in an overnight average audience of two million viewers, the second-highest in Blue Jays' broadcast history.
Overall ratings this season are up 58% this season over last on Sportsnet, according to numbers from Rogers Media.
Anthony Attard, Sportsnet's VP of sports and NHL sales at Rogers Media, says that while Major League Baseball produces the in-game broadcasts, there are plans for custom pre- and post-game programming for the playoffs. And of course, corresponding sponsorship packages. Set options include the Jays' starting lineup, key plays of the game and player of the game for each broadcast.
Attard says post-season Jays games will stay on Sportsnet, with no plans to move it over to City and disrupt the fall lineup.
While Rogers Media won't confirm numbers, industry estimates peg a 30-second post-season Jays spot at $100,000. The media co confirms that revenue is up 35% this season over last to date.
"It's supply and demand and there has been a huge demand," says Lance Moreton, media director, Media Dimensions of the current seller's market around inventory.
That demand has given marketers the opportunity to develop themed activations.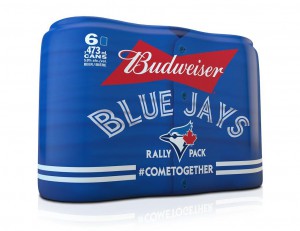 Take for example partner company, Budweiser, which has announced plans to release a limited edition Blue Jays branded "rally pack" in LCBO stores. Andrew Oosterhuis, director of marketing, Labatt Breweries of Canada, says the Budweiser team, which has been working with the Blue Jays since 1977, see this year as an "awesome opportunity" to capture the attention of fans in Toronto and across Canada.
In addition to the branded cans and a social media countdown, Budweiser will be promoting at Toronto-area bars and also finding a way to link its hockey-centric red lights with home runs. Work on the post-season is being done by UM, Anomaly and Veritas.
Given the momentum behind the Jays' performance thus far, the post-season is about growing opportunities to build long-term fans, according to Matthew Logue, EVP and COO, S&E Sponsorship Group. He says the post-season will be about access and he anticipates the Blue Jays focusing on bringing fans who aren't able to get game tickets, into the action.
"This is an opportunity to build a next-generation rabid fan," says Logue. "When you think about people in their 30s now, 20 years ago we saw them have a tremendous team. So they can try and capture kids on the 10-and-under range that will be lifelong fans."
Keeping the focus on the fans, not just the winning team is how brands will best be served by this season's opportunity, adds Logue.
"This has showcased the power of the property when it's turned on," he says.