ONE by AOL really lives up to its name. Launched in early April, ONE is all about simplification. The cross-screen platform integrates all programmatic buying channels, audience management platforms and multi-touch attribution into one platform – and then seamlessly connects data throughout the entire process from targeting to optimization on ROI.
Leanne Gibson, Head of Ad Products and Business Operations for AOL Canada, says, "Multi-touch attribution is an important component of ONE. What multi-touch attribution allows you to do is trace the customer path to purchase and ultimately optimize the investment. The marketer has the ability to look at the entire marketing campaign, offline and online, and have that unbiased view and be able to respond in real time and optimize to whatever is performing best. That's the real value that multi-touch attribution brings to the table."
For advertisers and agencies, ONE provides a much more simplified and focused platform portfolio. On the unified platform, media, creative, audience management and attribution are integrated with buying tools for all channels – display, mobile, video and TV – to give advertisers more control and the ability to shift marketing investments to the most effective tactics in real time. This level of optimization translates into more effective and sophisticated targeting, and provides increased speed of insight to execution.
Transparency and brand safety are important aspects of the platform. ONE by AOL currently offers a network of over 2,000 publishers with all sites verified by both machines and humans to ensure brand safety.
"Traditionally ad networks have kept their inventory in little black boxes with very little transparency and there's a real divide between buyers and sellers," Gibson says. "An open platform is about accepting existing publisher relationships while also aiding and developing new ones. Advertisers can purchase both reserved and non-reserved inventory upfront and then customize and optimize the inventory to suit their objectives."
Because ONE by AOL is an open environment, it offers marketers a lot of flexibility to customize the programmatic platform to their needs. They can use all or any of the modules within ONE, combine proprietary and supplier research, and still maintain control and ownership of their data at all times.
At the client service level, AOL has a large well-informed programmatic team to work with agencies and marketers. Some marketers opt for managed service and have client service working with them on their campaigns. Others are managing campaigns on their own, knowing they have AOL's dedicated support.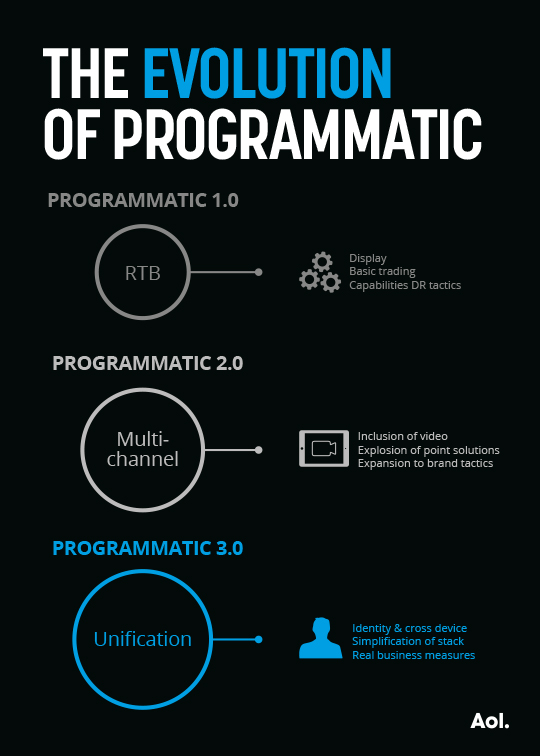 Gibson says, "ONE by AOL is all about optimization of investment and that's where the focus should be. We do that with multi-touch attribution instead of the ROI conversation. Multi-touch attribution gets you a brand-safe environment because you know where your brand is and you're in control.
"With the changes in behaviours that are impacted by technology, the consumer path is really fragmented. Everything from awareness to loyalty is part of this complex trail of touchpoints and engagement data and that's why marketers have turned to automated platforms to help develop and optimize effective programs. We believe that our open philosophy and the way we work with data along with our partners really is the big differentiator for us."
Although ONE by AOL has put the focus on ad technology, AOL is still also a content company. Thanks to the in-house video studio built earlier this year, AOL Canada recently launched its first local slate of original programs for advertisers, including seven Canadian series along with eight global series to be shown on AOL media properties – AOL.ca, AOL.On and The Huffington Post.