Millions tune in for live NFL game on Yahoo
Yahoo CEO Marissa Mayer narrows in on mobile as Yahoo's focus, with an inaugural play live-streaming an NFL game from London, U.K.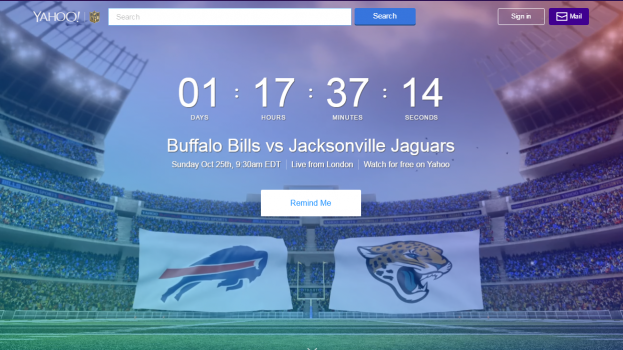 Fans of the Buffalo Bills or the Jacksonville Jaguars who played off in the National Football League's international series game in London, U.K. were treated to a historic experience this weekend. As the two teams faced off at London's Wembley Stadium on Sunday, Yahoo hosted its first-ever, free global live stream on its site to see a thrilling game, in which a backup quarterback for the Bills erased the Jaguar's 24-point lead before the Florida team executed a final-moment winning touchdown.
The NFL game marked the first-ever, purely-digital and free global live stream. According to numbers released by Yahoo, some 15.2 million viewers watched the game and 10 million of those were U.S. viewers, with the remainder spread across 185 countries. By contrast, NBC Sunday Night Football in the U.S. won 19.6 million viewers on Oct. 5, making it the most-watched program that week, according to Nielsen.
Yahoo recruited 30 global sponsors  - Toyota, Microsoft and Chrysler, for example – to host the all-digital giving viewers in Canada the ability to watch the game across devices. Ahead of the event, the company estimated that most of its viewership would come from mobile.
The game auto-played on Yahoo.com and while the broadcast saw 33.6 million total views across devices on Yahoo and Tumblr, some of that time (460 million minutes of the game) may be attributable to autoplay on devices of viewers who never actually watched, or wanted to, watch the game.
The move comes as Yahoo CEO, Marissa Mayer, is under the spotlight following the digital company's latest quarterly loss report. The company is expected to post its lowest pre-tax earnings in a decade this year according to The Economist, with analysts suggesting that Mayer's heavy investments in blogging platform Tumblr and in the video advertising platform BrightRoll have not paid off, with Facebook and Google leading the charge in video advertising.
Ken Goldman, Yahoo's CFO, said the company's investment in original content was behind a $42 million impairment charge in Q3 on the value of its video assets.
The company has now decided to walk away from three of its signature originals, with Goldman noting that the shows were not successful.  
"We're not saying that we're not going to do these again in the future. What we are saying is that, in three cases, at least, it didn't work the way we had hoped it would work and we decided to move on and basically write off those assets and preclude us from having to amortize that going forward," he said during the Oct. 19 earnings report to shareholders.
The NFL game is part of Mayer's strategy to narrow Yahoo's focus over Q4 and into 2016 by delivering "fewer products with higher quality."
Mayer promised more focus on mobile in the coming year, with an eye on extending viewer engagement across devices.
"That," she said, is ultimately what will drive long-term growth."
With files from Darah Hansen