Spotted! Best Buy brings the fashion element to wearable tech
The event, now in its second year, brought some couture to this year's market, in an effort to marry the innovative with the creative.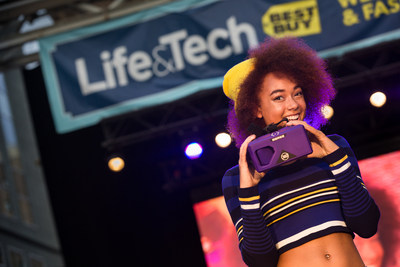 Electronics and appliance retailer Best Buy Canada wants to show the world that wearable technology isn't just innovative — it's high fashion.
Best Buy hosted its second annual Life and Wearable Tech Expo and Fashion Show in Yonge-Dundas Square on Aug. 25. The event featured live, on-stage demonstrations from brands such as Muse, Fossil, Samsung, LR and more, with vendors giving guests an opportunity to get hands-on with tech brands. The event also featured the "Tech Toy Zone," which included vendors Spin Master, Wowwee and Sphero showcasing the latest in tech toys.
The day was closed out with a fashion show hosted by wearable tech expert and speaker Tom Emrich and style columnist Afiya Francisco, featuring products from brands such as Fitbit, Kate Spade, Skullcandy and more. The fashion show was curated by fashion producer Hans Koechling.
The event was produced by XMC. Media Experts executed an OOH buy in the area around the event, while the majority of the program was driven through digital advertising, and handled in-house. PR was handled by Veritas.
Last year marked the first time the retailer introduced the expo, however this year, the fashion element of the event was emphasized more in the branding and marketing of the event, said Best Buy Canada's national brand manager Erin Isberg.
"Last year was about introducing the public in general to wearable and wearable tech, mostly because unless something is really [demonstrated], it's hard to explain how a lot of these work," Isberg told MiC. "This year was really the next step, which was all about marrying the tech to the fashion, marketing these as accessories for fashion purposes."
Isberg said the primary target for Best Buy is the older millennial crowd, from the 20′s to the mid-30′s.
"That's really the bread and butter demo for people who understand technology," said Isberg.
In October, Best Buy will take another campaign to market, this time focusing on smart home and wearable technology. Isberg said she expects wearables to play a major part in Best Buy's holiday shopper marketing, since by its nature it is seen as highly "giftable."
"It's seen as a disposable income purchase rather than a necessary home purchase."
Isberg said the company estimates that 5,000 people attended the event throughout the day.